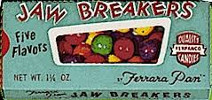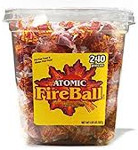 February 28, 2018 - From the COR Detroit:
FERRARA CANDY CO. - CHEWY LEMONHEAD FRUIT MIX CANDIES in a 5 Pack package is being sold locally at Dollar Tree and other stores with an unauthorized UMK symbol on the outside sticker label. The individual boxes themselves do not bear any Kosher marking. and they state "Product of Mexico".These candies are not certified, and are produced in a non-Kosher facility.
The only Ferrara candies that remain under acceptable certification are Atomic Fireballs and Jawbreakers, and only when they bear the UMK symbol on each individual box.
Boxes of CHEWY LEMONHEAD candies that bear a UMK symbol on the individual box and also state "Product of U.S.A." on the box, and do not state "Product of Mexico" in the ink jet code on the side of the box, are old product that was produced years ago under UMK certification and are Kosher. (The year of production can be determined from the first digit of the ink jet production code. 5 = 2015, 6 = 2016, etc.)
---
November 13, 2017 - From the UMKosher:
All Ferrara Candy Company products made in Mexico, except for Atomic Fireballs and Jawbreakers, are not certified by UMKosher. Some packaging of other items erroneously bear a UMK, corrective measures have been taken. Also, some Ferrara Candy Company products have the UMK symbol on the outer packaging on products no longer certified by the UMK. Corrective measures have been taken.