K A S H R U T . C O M©
The Premier Kosher Information Source on the Internet
---
HOME | PASSOVER | CONSUMER | COMMERCIAL | TRAVEL | ZEMANIM | LINKS | ARTICLES | RECIPES | HUMOR | E-MAIL LIST

---
Consumer Kashrut Alerts
Kashrut alert on Store Brands and Generic Brands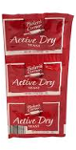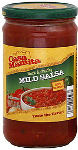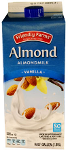 February 27, 2018: From the COR Detroit:
STORE BRANDS AND GENERIC BRANDS frequently change suppliers (i.e., the outside manufacturer that produces the product for the store), which often results in a change or loss of the product's Kosher status. Stores also may have multiple suppliers for the same product, so that some packages on the shelf bear Kosher certification while others do not, or some are marked Pareve and some are marked Dairy. This is especially common at discount stores such as Aldi and Save-A-Lot. Consumers should therefore be especially careful when buying such products to check each package every time for proper Kosher certification.
Below are three current local (Detroit area) examples:
BAKER'S CORNER ACTIVE DRY YEAST and BAKER'S CORNER FAST RISING YEAST sold at Aldi - no longer bear an OK symbol, and should not be used.
CASA MAMITA SALSA in 24 oz. jars sold at Aldi - some bear OU, some do not. They are from different manufacturers.
FRIENDLY FARMS ALMOND MILK, COCONUT MILK, & CASHEW MILK and SIMPLY NATURE SOY MILK in 64 oz. refrigerated containers sold at Aldi [in Original, Vanilla and Chocolate flavors] - some are pareve and bear a plain OU; others are DE (dairy equipment) and bear an OU-D, due to different manufacturers. The pareve status of the plain OU containers can be confirmed by the letters JP in the ink jet code at the top of the container. (Other information that was publicized, stating that this is a mislabeling, was incorrect.)
The information posted is from secondary sources. We cannot take responsibility for the accuracy of the information.
Copyright © kashrut.com. Permission is granted to reprint these alerts in hardcopy print media if kashrut.com is credited as the source of the information.
כל האומר דבר בשם אומרו, מביא גאלה לעולם אבות ו"ו