K A S H R U T . C O M©
The Premier Kosher Information Source on the Internet
---
HOME | PASSOVER | CONSUMER | COMMERCIAL | TRAVEL | ZEMANIM | LINKS | ARTICLES | RECIPES | HUMOR | E-MAIL LIST

---
Consumer Kashrut Alerts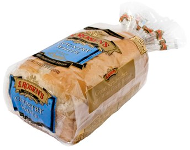 Pas Yisrael information: Natural Ovens, S. Rosen's and Alpha Baking Company
May 27, 2019, 2018 from the COR Detroit:
Natural Ovens Organic 100% Whole Grain Wheat Bread with CK [Cincinnati Kosher] certification, sold at Costco, is not Pas Yisroel.
Natural Ovens Better Wheat Buns (retail product) with an OU is Pas Yisroel per the "Glow Plug method" [an electrical heating element turned on by the Mashgiach], which most Kashrus agencies consider Pas Yisroel. (The OU, however, based on a psak of Rabbi Yisroel Belsky zt'l, does not accept this as Pas Yisroel.)
S. ROSEN'S BREADS, BUNS AND ROLLS (retail products) with an OU are Pas Yisroel per the "Glow Plug method" [see above].
March 19, 2019, 2018 from the cRc:
Alpha Baking Company: The Chicago Rabbinical Council is proud to announce that as of March 8, 2019 all breads baked by Alpha Baking Company are now Pas Yisroel. This includes all their retail products under the brand names: Natural Ovens, S. Rosen, Marry Ann, Kreamo, Golden Hearth, and Castle labels. The cRc would like to thank Rabbi Simcha Smolensky and Rabbi Dovid Jenkins of the OU for their help in facilitating this tremendous accomplishment.
The information posted is from secondary sources. We cannot take responsibility for the accuracy of the information.
Copyright © kashrut.com. Permission is granted to reprint these alerts in hardcopy print media if kashrut.com is credited as the source of the information.
כל האומר דבר בשם אומרו, מביא גאלה לעולם אבות ו"ו