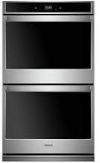 Whirlpool Double Oven Alert WOD51, WOD77, WOD97, WODA7
June 7, 2019 from the Star-K:
For these models of wall ovens, we recommend not placing both ovens into Sabbath Mode. To ensure proper functioning, select the Sabbath Mode feature for only the ONE oven you will use on Yom Tov (or on Shabbos as permitted halachically). Until further notice, do not use the other oven on Yom Tov or Shabbos.
The manufacturer is working on a fix. If you own any of these models, please email your model number, serial number and contact information to appliances@star-k.org so they can notify you when the fix is available.