K A S H R U T . C O M©
The Premier Kosher Information Source on the Internet
---
HOME | PASSOVER | CONSUMER | COMMERCIAL | TRAVEL | ZEMANIM | LINKS | ARTICLES | RECIPES | HUMOR | E-MAIL LIST

---
Consumer Kashrut Alerts
Kashrus Alert- HIDDEN VALLEY DRESSINGS
November 28, 2019 from the COR Detroit:
HIDDEN VALLEY DRESSINGS - Only those bearing OU or OU-D are certified Kosher. Currently, most Hidden Valley products in stores do not bear any Kashrus symbol.
---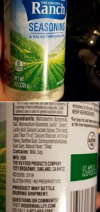 Kosher Alert Hidden Valley Original Ranch Dressing
October 24, 2018 - From the Vaad Hoeir of St. Louis Twitter Feed:
Some bottles of Hidden Valley Original Ranch dressing bear a plain OU Kosher symbol. The product is in fact dairy and has buttermilk listed in the ingredients.
The information posted is from secondary sources. We cannot take responsibility for the accuracy of the information.
Copyright © kashrut.com. Permission is granted to reprint these alerts in hardcopy print media if kashrut.com is credited as the source of the information.
כל האומר דבר בשם אומרו, מביא גאלה לעולם אבות ו"ו