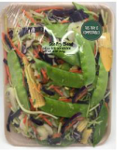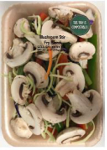 Ghnw, LLC Voluntarily Recalls Mushroom Stir Fry Blend and Stir Fry Blend Because of Possible Health Risk in Oregon and Washington States
November 5, 2019 from FDA:
GHNW, LLC of Clackamas, OR is voluntarily recalling Mushroom Stir Fry Blend 10 oz. tray and Stir Fry Blend 16 oz. tray that were produced using Broccoli Slaw that is being recalled by Mann Packing Co., Inc. due to the potential to be contaminated with Listeria monocytogenes.
HNW, LLC is issuing this recall out of an abundance of caution. The recalled products have "Sell By" dates of October 27, 2019 to November 8, 2019, which can be found printed in black ink on the front label of the product. The products affected were sold at QFC and/or Fred Meyer in Oregon and Washington State.
Consumers who believe that they are in possession of any of the products affected by this recall should dispose of the product in an appropriate waste container.
For any inquiries or comments, consumers with questions regarding this GHNW recall are welcome to call 888-449-9386, M-F, 9 am to 4 pm PST