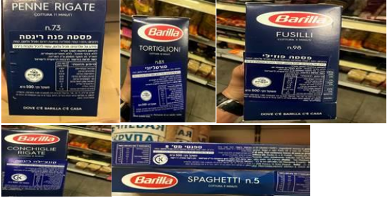 November 25, 2019 from health.gov.il
Announcement from the Importer: Ben -Shlush Import & Export Ltd.: We are to inform that a variety of Pasta Barilla 500-gram products manufactured by Barilla G. e R. Fratelli S.p.A. in Italy and imported by us, Ben-Shlush Import & Export Ltd. may contain traces of soy, but in the Hebrew allergen label attached to the packages, the word "soy" was omitted, and instead it just says: "Contains gluten, may contain eggs".
Product names:
Pasta Fusilli
Tortiglioni
Pasta Penne Rigate
Spaghetti No. 3
Spaghetti No. 5
Spaghetti No. 7
Conchiglie Rigate
Penne Lisce
Any person with known soy, eggs or gluten allergies is urged not to consume the products.
The company works to recall the products and correct labeling. You could refer your inquiries in this matter to a Company representative at
ebshloosh@gmail.com
or call us at 052-8194838 (should there be no response within an hour, you could leave a written message).
Consumption of said products presents no problem to other customers who are not allergic to the allergens mentioned above.