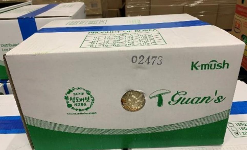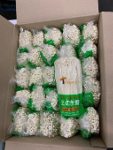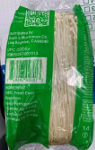 March 23, 2020 from FDA:
Guan's Mushroom Co of Commerce, CA is recalling all cases of its 200g/7.05 ounce packages of Enoki Mushroom (Product of Korea) because it has the potential to be contaminated with Listeria monocytogenes.
The recalled products were distributed from CA, NY, PA in retail stores through produce distributors or wholesalers.
The Enoki comes in a 200g/7.05ounces, clear plastic package with the description "Enoki Mushroom" in English, Korean and French, and Guan's logo in the front. At the back, there are UPC code: 859267007013 and package code 14-1 at lower right corner.
The product is being shipped in a white cardboard box with 25 pcs of 200g. The box contains Guan's logo in green color and #02473.
The potential for contamination was noted after routine testing by State of California revealed the presence of Listeria monocytogenes in 200g package of Enoki.
The distribution of the product has been suspended.
Consumers who have purchased 200g packages of Enoki are urged to return them to the place of purchase for a full refund. Consumers with question may contact the company at 323.223.1188.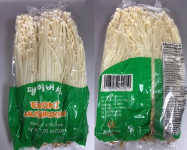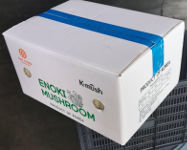 March 10, 2020 from FDA:
On March 9, 2020, Sun Hong Foods, Inc. recalled all enoki mushrooms imported from Korea (Republic of Korea). The firm recalled product after the Michigan Department of Agriculture and Rural Development found that a sample of these mushrooms was positive for Listeria monocytogenes.
Enoki mushrooms from Sun Hong Foods were sold in 7.05 oz/200 g clear plastic packaging with a green label; Sun Hong Foods, Inc. is labeled on the back of the packaging underneath the bar code. These products can also be identified by the UPC code: 7 426852 625810. Recalled product was sold to distributors in California, Florida, Illinois, Oregon, and Texas; and was sold to the following retailers: J&L Supermarket, Jusgo Supermarket, ZTao Market, New Sang Supermarket, Galleria Market. This distribution information has been confirmed by the firm, but product could have been distributed further, reaching additional states and retail locations.
Consumers should not eat and should check their refrigerators and throw away any recalled enoki mushrooms from Sun Hong Foods, Inc.
Restaurants and retailers should not sell or serve recalled enoki mushrooms distributed by Sun Hong Foods, Inc.
---
March 24, 2020 Canadian Food Recall Warning of Golden Mushroom brand Enoki Mushroom recalled due to Listeria monocytogenes is here