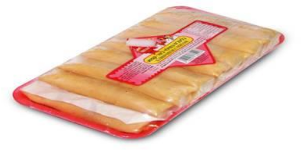 May 12, 2020 from health.gov.il
Upon inspection by the Food Serviceat Ashkelon Health Bureau, Listeria monocytogenesbacteria was found in the "Frozen Meat-FilledBlintzes" (800 gram)Brand:"Frozen Meat-Filled Blintzes,"barcode: 7290006337016, manufactured by Irina's Stuffed Dough Factories Ltd., that has been produced on 30/04/20 only. Better to be used before 30/10/20.
In coordinationwith the Food Service at the Ministry of Health and for safety's sake, Irina's Factories withhold the marketing of the product mentioned above and request its recall.
The public is askednot to consume the product, as mentioned above. It is possible to return the product and receive a refundfor it, in coordination with our customerservice at 1-800-50-40-50For further information,call our company at 088533194.