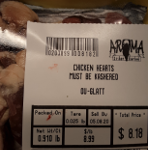 May 18, 2020 from the OU:
Kosher meat and poultry require salting in order to remove naturally occurring blood, before they may be cooked. All meat and poultry bearing the OU symbol has undergone this process.
Any meat or poultry, including chicken hearts, which has not been salted, is not certified by the OU.
Consumers who have purchased such a product, or cooked it without the required salting, are advised to consult their rabbi for further guidance.