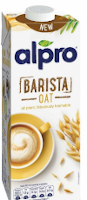 September 9, 2020 from health.gov.il
On some packages of the following product: AlproOat (barcode: 5411188127697) in 1 liter cartons, labeled with "Best Before" date 05/04/2021, a labeling error occurred in the Hebrew label on the back of the package, mislabeling it as an almond drink with added calcium.
The correct labeling is as labeled in English: Alpro Oat –Oat Drink", including an illustration of an oat stalk on the front of the package.
This product is perfectly safe for consumption. However, people with celiac or with known allergies to oats and to any of the other allergens listed in the allergen information label are urged not to consume this product.
Strauss Company, the marketer of these products, apologizes to its customers and taking actions to recall the products from shelves. For further inquiries you may contact us through the "Contact" tab in our website: https://www.strauss-group.co.il/cs_formor through Strauss' customer service center at 1800-777-777