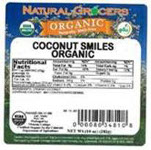 Natural Grocers Issues Recall on Coconut Smiles Organic Due to Salmonella
March 19, 2018 from the FDA:
Vitamin Cottage Natural Food Markets, Inc., a Lakewood, Colorado-based natural grocery chain, is recalling Natural Grocers brand 10-ounce Coconut Smiles Organic due to the potential to be contaminated with Salmonella.
The recalled product is packaged in clear plastic bags weighing 10 ounces and bears the "Natural Grocers" label. All packages with packed-on dates prior to 18-075 are subject to recall. The packed-on date can be found in the bottom left-hand corner of the label.
| UPC Code | Description | Packed on Date |
| --- | --- | --- |
| 8034810 | Coconut Smiles Organic | ALL PACK DATES PRIOR TO 18-075 |
The recalled product was distributed to 145 Natural Grocers stores located in Arkansas, Arizona, Colorado, Iowa, Idaho, Kansas, Minnesota, Missouri, Montana, Nebraska, Nevada, New Mexico, North Dakota, Oklahoma, Oregon, Texas, Utah, Washington and Wyoming.
Six illnesses have been reported by individuals who ate Coconut Smiles Organic purchased from Natural Grocers. Consumers who may have purchased this product should return it to the store for credit or refund.
Consumers with questions may contact the company by calling Customer Service at 303-986-4600, ext. 80531, Monday through Friday 8 a.m. to 5 p.m. (MST).