The following kashrus alert is from the OK on March 7, 2011.
Please be advised that VIAPIA OLIVE OIL Italian Tradition Distributed by B.M.A. USA, Inc. Glendale, CA bear an unauthorized OK symbol on the label. These products are not certified by OK Kosher Certification. Corrective measures are being taken.
The following yoshon alert is from the Kosher Miami on March 7, 2011.
Many of the Kosher Miami certified establishments have been providing Yoshon flour in their products.
However, recently there has been a shortage of Yoshon flour in Miami. This will affect the ability of the establishments to continue to provide Yoshon products until Pesach. We are therefore alerting the public to inquire at the establishment regarding the Yoshon status of the products, before making their purchase. There will be signs posted in those particular establishments that are out of Yoshon flour.
The following health alert is from the FDA on March 4, 2011.

Unilever United States, Inc. today announced a limited recall of Skippy® Reduced Fat Creamy Peanut Butter Spread and Skippy® Reduced Fat Super Chunk Peanut Butter Spread, because it may be contaminated with Salmonella.
The product was distributed to retail outlets in AK, CT, DE, IL, IA, ME, MN, MO, NE, NH, NJ, NY, ND, Pa, Va and WI.
The affected product, which is packaged in 16.3 oz plastic jars, is as follows:
UPCs: 048001006812 and 048001006782 (located on the side of the jar's label below the bar code.)
Best-If-Used-By Dates: MAY1612LR1, MAY1712LR1, MAY1812LR1, MAY1912LR1, MAY2012LR1 and MAY2112LR1 (Stamped on the lid of the jar.)
Consumers who have purchased Skippy® Reduced Fat Peanut Butter Spread with the above UPCs and Best-If-Used-By-Dates are urged to discard the product immediately and call the company for a replacement coupon. Consumers can contact the company at 1-800-453-3432, which is operational 24 hours a day, for information on the recall. In addition, a consumer services representative is available Monday through Friday between the hours of 8:30 AM and 6:00 PM EST.
The following health alert is from the FDA on February 14, 2011.
DeFranco and Sons of Los Angeles, CA, is voluntarily recalling bulk and consumer-packaged in-shell, hazelnut and mixed nut products containing hazelnuts because they may be contaminated with Escherichia coli O157:H7 bacteria (E. coli O157:H7). The recall was initiated after the nut products were linked to 7 illnesses in the states of MI, MN, and WI. To-date, no E. coli 0157:H7 has been detected in the nut products; however, we are notifying our valued consumers and customers out of an abundance of caution.
DeFranco and Sons received the in-shell nuts from suppliers or growers and subsequently distributed the nuts nationwide and to Canada. The affected nuts listed below were distributed between 11/2/10 and 12/22/10.
Brand
Size
Product
Sell By Date
UPC
Sunripe
1 lb
Large Hazelnuts
6/30/11
070533 000167
Sunripe
1 lb
Mixed Nuts
6/30/11
070533 000143
Sunripe
2 lbs
Mixed Nuts
6/30/11
070533 001003
None - (Sold as "Season's Greetings" Gift Pack)
4 lbs
Mixed Nuts
6/30/11
070533 101024
Sunripe
50 lbs
Imperial Mixed Nuts
None
None
Sunripe
50 lbs
Supreme Mixed Nuts
None
None
George Packing
50 lbs
Hazelnuts
Only the products distributed by DeFranco and Sons between 11/2/10 to 12/22/10.

The 50 lb bags of in-shell hazelnuts or mixed nuts with hazelnuts may have been repacked or sold in bulk containers to consumers.
Consumers who think they may have the affected hazelnut or mixed nut products containing hazelnuts should not eat them and are urged to check with their place of purchase to determine if they are subject to the recall. Consumers with questions may contact the company at 800-992-3992, Monday thru Friday from 2:00 to 4:00 pm Pacific time.
The following kashruth advisory is from the OU on March 1, 2011.
Archer Farms High Protein Orange Fruit Smoothie and Archer Farms High Protein Mixed Berries Fruit Smoothie, Target, Minneapolis, MN: These certified products contain dairy ingredients as listed on the ingredient panel but the dairy designation has been inadvertently omitted. Future packaging will be revised.
The following kashrus alert is from the Kosherquest.org and confirmed by the RCC on March 3, 2011.
Kosher Chicks restaurant, Encino, CA has left the RCC to be able to serve the public at large. Therefore, they are open on Shabbat and to the best of our knowledge, have no kashrut certification. The word "Kosher" in their name or the possible appearance of the RCC logo on their menus does not signify kosher status. The menus are being corrected.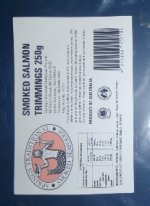 The following Australian health alert is from the Food Standards of Australia and New Zealand on March 1, 2011.
Various Smoked Salmon products fromn Huon Aquaculture Group Pty Ltd have been recalled due to Listeria monocytogenes contamination. List of recalled product is at www.foodstandards.gov.au/consumerinformation/foodrecalls/currentconsumerlevelrecalls/smokedsalmonmicrobia5086.cfm
The following kashrus alert is from the Star-K on March 1, 2011.
Dole value added Coleslaw with added dressing packets are not Star-K certified. The Star-K symbol appearing next to the sell by date code was labeled in error. Corrective action is being taken.
The following revised kashrus alert is from the Star-K on March 1, 2011.
Weight Watchers® Cappuccino Cream Melts bears an unauthorized Star-K and is presently not certified. Weight Watchers is currently working to rectify this, and proper packaging is pending.
Weight Watchers Blackberry, Cherry and Strawberry Fruities are kosher pareve and certified by the Star K when bearing the Star-K.
---
The following kashrus alert is from the Star-K on December 2, 2010.
WEIGHT WATCHERS FRUITIES and CAPPUCCINO CREAM MELTS and other candies manufactured in Italy bear an unauthorized Star-K. Corrective action is being taken.
The following kashruth advisory is from the OU on March 2, 2011.
OU Mashgichim checking the gut cavities of sardines have recently discovered what appears to be small white parasitic worms in and around the internal organs of some sardines (a separate issue from the krill in the stomach of some sardines from Canada).
This issue has been observed in some sardines from Portugal, and we are continuing to investigate the sardines packed in other countries. The Orthodox Union recommends that kosher consumers refrain from consuming sardines packed in Poland, Scotland, Norway or Portugal at this time, while we continue to research this serious concern. The following products currently appear to be free from all concern:
All skinless and boneless sardine products, regardless of country of origin
Product of Morocco,
Product of Philippines
Product of Thailand
The Orthodox Union continues to research the issue, and will advise upon the completion of our research.Bugles Original, General Mills, Minneapolis, MN: Please be advised that General Mills has discontinued OU-D kosher certification from all retail and foodservice sizes of Bugles Original products due to operational changes at the production sites. The OU-D symbol has been removed from packaging.