The following kashrus alert is from the OU on November 24, 2010.
Just Bagels Asiago Cheese Bagels, Just Bagels - Bronx, NY: This product mistakenly bears an unauthorized OU symbol and is not kosher. The product is being withdrawn from the marketplace.
The following health alert alert is from Processingmagazine.com McNeil on November 23, 2010.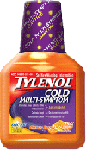 McNeil Consumer Healthcare, Division of McNEIL-PPC, Inc., is recalling, from the wholesale and retail level, three TYLENOL® Cold Multi-Symptom liquid products in order to update the labeling for these products. The specific products involved, listed below, are sold in the United States. This is a wholesale and retail level recall and is not being undertaken on the basis of adverse events. No action is required by consumers or healthcare providers and consumers can continue to use the product. McNeil Consumer Healthcare initiated the recall after an internal review revealed that information about the presence of alcohol from flavoring agents was noted as an inactive ingredient listed on the package, but not on the front panel of the product. Certain flavoring agents contribute small (<1%) amounts of alcohol. The NDC codes for the recalled products can be found on the product front panel. Product Description:
TYLENOL® COLD MULTI-SYMPTOM DAYTIME 8 OZ CITRUS BURST™ LIQUID NDC Code # 50580-257-08 UPC # 300450257086
TYLENOL® COLD MULTI-SYMPTOM SEVERE 8 OZ COOL BURST® LIQUID NDC Code # 50580-351-08 UPC # 300450521088
TYLENOL® COLD MULTI-SYMPTOM NIGHTTIME 8 OZ COOL BURST® LIQUID NDC Code # 50580-269-08 UPC # 300450269089
Consumers with questions should call the McNeil Consumer Care Center at 1-888-222-6036 (available Monday-Friday from 8 a.m. - 8 p.m. ET and Saturday - Sunday, 9 a.m. - 5 p.m. Eastern Time.)
The following kashrus alert is from the Vaad of Flatbush on November 23, 2010.
"Effectively immediately please be advised that the Vaad Hakashrus of Flatbush has removed its hechsher from Kings Highway Glatt 497 Kings Highway Brooklyn, NY due to kashrus violations. Any use of the Vaad's name or symbol is unauthorized."
Ed. note: They are continuing to be certifed as kosher by Kehillah Kashrus.
The following health alert alert is from Processingmagazine.com McNeil on November 23, 2010.
Johnson & Johnson is recalling its children's-strength Benadryl and Motrin products because of manufacturing problems. J&J said in statements posted on its McNeil subsidiary's website that the products are safe for consumers to use. J&J is pulling back 4 million packages of Children's Benadryl Allergy FastMelt tablets, in cherry and grape flavors, distributed in the U.S., Barbados, Belize, Canada, Puerto Rico, St. Martin and St. Thomas; and 800,000 bottles of Junior Strength Motrin caplets, 24 count, distributed in the U.S.
Additional information on the recalled items can be found at http://www.mcneilproductrecall.com
The following health alert alert is from the FDA on November 23, 2010.

Artisan Confections Company is voluntarily recalling a limited quantity of its Dagoba Organic Chocolate new moon Rich Dark Chocolate 74% cacao 0.32 ounce squares because they may contain Salmonella. No other sizes or Dagoba items are involved in this recall. The recall involves 33 cases of 0.32 oz squares that were sold nationwide online and through natural/specialty food retail outlets after October 27, 2010. The only affected products were sold from display boxes labeled with the code 37HLB11, UPC 10474-55509. The item was produced at a third-party manufacturer. The recall was initiated after quality checks indicated the presence of salmonella in a single sample. Consumers who have purchased the item in question should contact Artisan Confections Consumer Relations at 866-608-6944. (9 a.m to 4 p.m. EST)
The following kashrus alert is from the Metropolitan Kashruth Council of Michigan on November 23, 2010.

Mid East Pastries of Sterling Heights, Michigan is no longer under the supervision of the Metropolitan Kashruth Council of Michigan.
The following milk allergy alert is from the FDA on November 18, 2010.

Krunchers! Inc. recalls 18 cases of Jays Original Potato Chips because of undeclared milk allergen. The recall is the result of seasoning containing a milk allergen in an Original Potato Chip bag. Jay Original Potato Chips are distributed throughout the Midwest in OH, IN, MI, WI, and IL. The product can be identified by a code in the upper right corner of the bag reading: JAN16CA542011 (see photo). Each of the 18 cases of affected product contains ten 12-ounce bags that are priced at $3.99. Consumers who have purchased Jays Original Potato Chips are urged to return them to the place of purchase for a full refund. Consumers with questions may contact Krunchers! Inc. at 1-800-233-7125 between 8:00 am and 5:00 pm Eastern Time.
The following kashrus advisory is from the OU on November 22, 2010.
This is an advisory with respect to Brunswick® and Beach Cliff® brand sardines. We have received a number of consumer contacts noting the presence of "shrimp" in these sardines. We have discussed this with the manufacturer who has informed us that this is actually krill, a small shrimp-like crustacean, which is a common source of feed for sardines. Krill is normally digested prior to processing and should not be found in a finished product, even one which contains the stomach. This year, many factors (e.g., size of fish, warmer water temperatures, methods of fishing, etc.) combined to create a very unusual fishing year and an increase in sardines containing krill in their stomachs. The manufacturer emphatically confirms this issue is not one of quality, species substitution or adulteration of any sort: rather an unexpected and previously unforeseen occurrence, which now requires our attention.
In response to the issues faced this year and concerns voiced by the OU, the manufacturer is implementing new fish inspection processes to ensure that future productions of Brunswick® sardines do not contain whole krill. Also, the OU label will be removed from the Beach Cliff® brand so that fish that may contain whole krill can continue to be utilized and sold to consumers without dietary restrictions.
The manufacturer is offering coupons for replacement product to consumers who purchased Brunswick® or Beach Cliff® sardines containing krill with the following Best By dates:
Brunswick® Oil Products with Best By codes between June 2015 and November 2015.
Brunswick® Water and Sauce Packs with Best By codes between June 2013 and November 2013.
Beach Cliff® Products with any Best By code starting June 2013 and thereafter that bears an OU code on the label
To receive your coupons, simply send your name, address and description of product to Brunswick Refund, P.O. Box 23220, San Diego, CA 92193. We would ask that you consider donating any existing product to canned food drives serving families without dietary restrictions.
---
The following kashrus alert is from a reader's question and consultation with the OU and Bumble Bee on September 22, 2010 with additional information on November 8, 2010.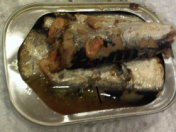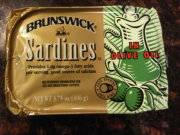 A reader reported finding krill, a small crustacean similar in appearance to a small shrimp in some cans of Brunswick Sardines in Olive Oil. The product code of the cans in question is 0215CB Best by Aug 2015. Sardines are a small herring and are a natural seafood product. The main components of the herring diet are krill and other zooplankton present in the ocean in which it lives. Due to the feeding habits of the fish, krill may occasionally be present in a tin of sardines. Krill in the stomachs can bust out and appear in the can. This is a very rare occurrence. Bumble Bee reported that consumers reported approximately 20 incidences in over 20 million cans.
Ed. note If you see this, do not eat the sardines and report the problem to the the OU and to Bumblee Bee at http://www.bumblebee.com/Contact/?pg=intro or 858-715-4000, 800-814-8460. Please inform them of all production and date codes on the product and to request a refund.
The following kashrus alert is from the Star-K on November 22, 2010.
WELLNESS PRO, Encino,CA, is no longer Star-K or Star-D certified. Wellness Pro produces nutritional shakes and supplements including Balanced Nutrition-Meal Replacement for Men and for Women and Block 'n Burn. These products are no longer Star-K or Star-D certified.
The following kashrus alert is from the Star-K on November 19, 2010.


The Star-K and Melaleuca Inc. are committed to upholding high Kosher standards. We are, therefore, notifying the public that a non-Kosher ingredient was used in Melaleuca's Fiberwise and Sustain drink products that bear the Star-D symbol. The amount of non-Kosher in the product is less than 1% and is therefore batel b'shishim (i.e. it is considered nullified as it is less than 1 part non-Kosher to 60 parts Kosher) and may be consumed. All future products will be made with a Kosher version of this ingredient. The following products and lot numbers are affected by this alert.
Orange Fiberwise Canisters
Peach Fiberwise Canisters
1366397
1347153
1326803
1316120
1291381
Orange Sustain Canisters
1380228
1339330
1306781
1316162
1363751
1317341
Grapefruit Sustain Canisters
1383576
1387219
1354695
1333317
1387219
1353297
Berry Sustain Canisters
1380199
1308971
1363778
1316445
1291399
1306870
Lemon Sustain Canisters
1306790
1363760
1324939
1352331
1306888
1333309
Raspberry Lemonade Sustain Canisters
Grapefruit Sustain Sticks
1356965
1368454
1343822
1357757
1348711
1333333
Raspberry Lemonade Sustain Sticks
1351355
1354476
1366590
1343831
1378232
Lemon Sustain Sticks
1357001
1341940
1339313
1298494
1308576
Orange Sustain Sticks
1379841
1316154
1316146
1365212
1379841
1352876
1343726
Berry Sustain Sticks
1366485
1339321
1336121
1306837