The following Canadian health alert is from the CFIA on March 23, 2009 .
The Canadian Food Inspection Agency (CFIA) and Shefa Meats are warning the public not to consume Shefa brand Beef Salami because the product may be contaminated with Listeria monocytogenes. The affected product, Shefa brand beef salami, is sold in 750 g packages, bearing lot code 2831, UPC 8 13217 00179 7, and a Best Before date of Jun2 09. This product has been distributed in Alberta, Manitoba and Ontario. There have been no reported illnesses associated with the consumption of this product. The manufacturer, Shefa Meats, Toronto, ON, is voluntarily recalling the affected product from the marketplace. The CFIA is monitoring the effectiveness of the recall.
For more information, consumers and industry can call one of the following numbers: Ben-Zion Dubinsky (Shefa Meats) at 416-783-1293; CFIA at 1-800-442-2342 / TTY 1-800-465-7735 (8:00 a.m. to 8:00 p.m. Eastern time, Monday to Friday).
The following health alert is from the FDA on March 20, 2009 .
den Dulk Poultry Farms, Ripon CA. is voluntarily recalling their Organic brown eggs as a precaution because the eggs have the potential to be contaminated with Salmonella. The recalled eggs were distributed to Costco and Safeway in Northern California, as far South as Fresno, and in western Nevada.
Costco: The eggs are sold at Costco as Kirkland Organic Brown Eggs. They are packaged in 18 count cartons. Expiration dates and plant code can be found on the end of the carton and are written as follows:
| | |
| --- | --- |
| April 1 062 | April 8 069 |
| 35 P1776 | 35 P1776 |
Safeway: The eggs are sold at 71 Safeway and Pack n' Save stores as O Organic Grade A Large Brown Eggs. They are packaged in one dozen (12 count) cartons. Expiration date and plant code can be found on the end of the carton and are written as follows:
April 1 062
35 P1776
No known illnesses have been reported to date in connection with these eggs. The recall was initiated after it was determined that the eggs in question tested positive for Salmonella during an internal investigation by den Dulk Poultry Farms. Consumers who have purchased or are the recipients of these eggs are urged to return them to Costco or Safeway for a full refund. Consumers with questions may contact den Dulk Poultry Farms (209) 599 – 4269 or the Safeway Consumer Service Center at 1 – 877 – Safeway (723 – 3929). Hours are Monday through Friday, 9:00 a.m. to 5:00 p.m. (PDT).
A kashrus notice in Hebrew from the Beth Din Tzedek of Tartikov concerning non-kosher frankfurters found at Cheskel's Schwarma King, Brooklyn, NY is posted here on March 17, 2009. More information in English can be found at The Yeshiva World
Translation of the notice is available at matzav.com.
More information on the salmonella outbreak connected to peanuts posted on March 18, 2009.
The FDA is continuing to recall products containing peanuts from plants owned by Peanut Corporation of America. Over 2100 products have been recalled that either contain peanuts or were processed on lines that also processed peanuts.
From msnbc.com: About half of the new cases of confirmed salmonella infection continue to show up in people who ate Austin or Keebler peanut butter crackers manufactured by the Kellogg Co., according to officials from the U.S. Centers for Disease Control and Prevention.
Ed. note: Recalled products now include ice creams containing peanuts and spedialty peanut butters and "grind your own" peanut butters.
FDA has a searchable database of recalled products at www.accessdata.fda.gov/scripts/peanutbutterrecall/index.cfm. The list is updated frequently.
A list produced by the American Peanut council of products that contain peanuts that are not affected by the recall can be found at www.peanutsusa.com/USA/index.cfm?fuseaction=home.page&pid=262#Brands_NOT_Affected_by_FDA_Recall.
The following kashrus alert is from the OK on March 17, 2009.
Please be advised that QianNa Agricultural Products (i.e. Tofu Spaghetti and Chicken) distributed by CANDRA INTL. bear an unauthorized OK symbol. These products are NOT certified by OK Kosher Certification. If you see this product on the market, please call us at 718-756-7500.
The following kashrus alert is from the QueensVaad on March 17, 2009.
Please advised that Jerusalem Skewers located at 181-34 Union Tpke.Fresh Meadows, NY is no longer certified under the Vaad Harabonim of Queens. Any VHQ marking on the store awning or otherwise is erroneous and in the process of being corrected.
The following kashrus alert is from the Kof-K on March 17, 2009.
H&S Bakery-Harvest Pride Bread 12 Assorted Dinner Rolls with an expiration date of March 18, 2009 bear and unauthorized KOF-K. These items have been recalled from the market.
The following kashrus alert is from the Chicago Rabbinical Council on March 12, 2009.
"Rainbow Chip Crunch" cake sprinkles under the Wilton brand bear a "cRc pareve – D" symbol. This is due to a printing error and the product is in fact made with pareve ingredients on dairy equipment.
The following health alert is from the FDA on March 5, 2009 .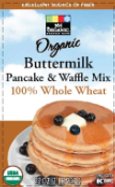 Whole Foods Market announced the recall of its 365 Everyday Value Brand Organic Whole Wheat Buttermilk Pancake and Waffle Mix, which may have potential salmonella contamination. No other Whole Foods Market, 365 or 365 Organic products are affected. The product, sold in two pound bags with Best Before dates of Nov 1 2009 and Nov 2 2009 stamped on the top, displays the following UPC code:
99482-42453: 365 Everyday value Brand Organic Buttermilk Pancake and Waffle Mix, 100% Whole Wheat
No illnesses have been reported in connection with this issue to date. There is very low risk of illness when preparation directions on the bag are followed and the product is not consumed raw or undercooked. Salmonella bacteria is killed at a temperature of 160°F. If consumers have this product with the indicated UPC codes and Best Before dates, they may return it to the store for a full refund. Consumers with questions may contact the company by calling 512-542-0656. Whole Foods Market has removed the affected lot codes from all store shelves. Product was distributed to 19 states including FL, CT, ME, MA, RI, NY, NJ, CO, KS, NM, UT, CA, AZ, NV, HI, TX, AK, LA and OK.
The following kashrus alert is from the Rabbinical Council of New England on March 10, 2009.
The products of "DESSERT MAVENS" OF NASHUA, NEW HAMPSHIRE are certified Kosher and Pareve under the hashgacha of the Vaad Harabonim. Inadvertently, the words "Pas Yisroel" were printed near our logo on their products. This company is not authorized for "Pas Yisroel". Arrangements are being made to rectify this error. However, all products are Kosher and Pareve.