The following is the cRc raisin policy dated Feb 6, 2009.
Recently, someone discovered drosophila larvae in raisins and brought it to the attention of the kashrus world. These larvae are not visible when one visually inspects raisins, but can be seen in water that had been used to soak raisins. In the ensuing weeks, kashrus professionals from the cRc and other hashgachos have been investigating this claim, and the following are our findings:
There are, in fact, a limited number of drosophila larvae in some boxes of raisins, but it is unclear whether they are common enough to raise a Halachik concern. Although the Torah forbids us from eating bugs, one is only required to inspect a vegetable if there is a reasonable concern that it might be infested. It is unclear whether the infestation level found in raisins exceeds this threshold, which is halachically referred to as miut hamatzui. [Although there was a high infestation levels first reported in raisins, it has since been found to be a much lower number]. Furthermore, it is unclear whether bugs which are as difficult to find and identify as drosophila larvae, are in fact included in the class of forbidden bugs.
USDA personnel have confirmed that drosophila larvae hatch after the grapes/raisins are detached from the ground, and do not leave the raisin where they were hatched until after they have left the larvae stage. In cases such as this - where the bug hatched on a fruit which isn't attached to the ground and the bug never left that fruit – all Halachik authorities agree that one may consume the bug (see Shulchan Aruch YD 84:4).
At first, one expert suggested that drosophila larvae may hatch while the grape is attached to the ground, which caused hesitation amongst the Kashrus professionals, but after conferring with her colleagues and clarifying which bug we were referring to, she retracted her statement. In truth, even if there was a possibility that the larvae hatched while the grapes were attached to the ground, there would be basis for permitting the raisins based on Taz YD 84:12.
We therefore conclude that the recent report of bug infestation of raisins does not concern kosher consumers, and raisins may be eaten. [Of course, raisins showing visible signs of infestation by bugs other than the ones discussed above should not be eaten until the bugs are removed]. The cRc will continue to monitor for any new developments.
The following kashrus alert is from the OK on Feb 4, 2009.
Please be advised that NUTRALIFE products made by SAO Corp, 90-15 43rd Ave., Elmhurst, NY 11373 are no longer certfied OK Kosher Certification. Any product with an expiration date later than 3/15/10 was NOT produced under OK supervision. Corrective measures are being taken. If you see this product on the market. please call the OK at 718-756-7500.
Additionally, Nuralife Honey Cashews were incorrectly labeled OK Pareve and actually contain a dairy ingredient.
The following kashrus alert is from OK on Feb 4, 2009.
Please be advised that Perfection Foods Company, 3901 Old York Road, Phila., PA 19140 is no longer certified by OK Kosher Certification. The following brands produced by Perfection Foods are no longer authorized to bear the OK kosher symbol:
Health is Wealth
Quick Snax
RSVP
Corrective measures are being taken. If you see this product on the market. please call the OK at 718-756-7500.
The following kashrus alert is from OK on Feb 4, 2009.
Please be advised that Health is Wealth products sold by Health is Wealth, Inc., 217 Prosser Ave., Willaimstown, NJ 08094 are no longer certified by OK Kosher Certification. Health is Wealth Egg Roll (Veggie Dumpling) has been incorrectly labeled with the OK symbol. Corrective measures are being taken. If you see this product on the market. please call the OK at 718-756-7500.
The following raisin advisory is from OK on Feb 2, 2009.
In response to the recent report and concern of infestation in some packaged raisins, the OK has carefully investigated the matter and after extensive testing and in consultation with our Rabbonim the OK continues to maintain that raisins, when stored under proper conditions (cool dry and clean environments) do not require checking for bugs. Please note that certain food items including but not limited to dried fruit, nuts, flour, spices, seeds, etc, when packed and/or stored in a warm or moist and unclean environments, often leads to insect infestation. These items should be avoided unless thoroughly checked.
The following revised raisin update is from the MK on February 4, 2009.
After further research regarding raisin infestation and ongoing discussions with leading experts in the field of kashrus, it has been decided that at the present time. RAISINS MAY BE USED. We will continue to monitor the situation and advise the consumer Regarding any changes.
The following kashrus alert is from the Chicago Rabbinical Council on February 2, 2009 .
Effective immediately, all open stock of Fannie May Chocolates are no longer under the certification of the cRc. This includes all of the loose products sold in their retail stores. Factory packed products bearing the cRc logo continue to be accepted by the cRc as dairy – Cholov Stam.
The following kashrus advisory is from the OU on February 2, 2009 in response to a reader's question.

Campbell's Vegetarian Vegetable Soup is no longer kosher certified. The company has stopped labeling the soup with any kashruth symbol.
The following revised Israeli health alert is from Maadanot on January 29, 2009.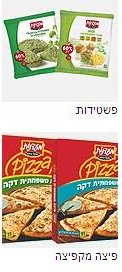 Maadanot Ltd. has informed its clients in Israel of a suspicion regarding the existence of the Listeria germ in its products specified below:
Maadanot Pizzas, Pizza Makpiza, Nisimiko Pizza and garlic sticks with expiry dates from December 11, 2009 through January 22, 2010.
Pies with expiry dates from June 11, 2010 through July 22, 2010.
Meat ampanadas (puff pastry filled with meat) and Puff pastry filled with sausages with expiry dates from June 11, 2009 through July 25, 2009.
Butter puff pastry with expiry dates from December 11, 2009 through January 25, 2010.
All kinds of burekas, jahnoun, malawah, puff pastry, fillas dough and blintzes leafs with expiry dates from June 11, 2010 through July 25, 2010.
Nisimiko products – all kinds of burekas and puff pastry with expiry dates from June 11, 2010 through July 25, 2010.
Although oven-baking destroys the Listeria germ, the Company has asked its clients in Israel who have these products, to refrain from consuming them and has collected the products with the abovementioned expiry dates from all stores.
Products that were exported abroad (to Tnuva USA as well as to Yarden, England and France) and that are located in stores abroad, do not have the abovementioned expiry dates and therefore are safe from the Listeria germ and there is no concern in their consummation.
The following Peanut salmonella health alert is from the FDA on January 30, 2009.
A combination of epidemiological analysis and laboratory testing by state officials in Minnesota and Connecticut, the Food and Drug Administration (FDA), and the Centers for Disease Control and Prevention (CDC) have enabled FDA to confirm that the sources of the outbreak of illnesses caused by Salmonella Typhimurium are peanut butter and peanut paste produced by the Peanut Corporation of America (PCA) at its Blakely, Georgia processing plant. Peanut butter is sold by PCA in bulk containers ranging in size from five (5) to 1,700 pounds. The peanut paste is sold in sizes ranging from 35-pound containers to product sold by the tanker container. Neither of these products is sold directly to consumers. However, through its investigation, FDA has determined that PCA distributed potentially contaminated product to more than 100 consignee firms, for use as an ingredient in hundreds of different products, such as cookies, crackers, cereal, candy and ice cream. On January 29, PCA issued an expanded voluntary recall of all peanuts and peanut products processed in its Blakely, Georgia facility since January 1, 2007. The expanded recall includes all peanuts (dry and oil roasted), granulated peanuts, peanut meal, peanut butter and peanut paste. All of the recalled peanuts and peanut products were made only at the company's Blakely, Georgia facility.
Companies nationwide that received product made by PCA have issued voluntary recalls of their products. As FDA gathers additional information about these products, the list of recalled products is expected to expand.
Major national brands of jarred peanut butter found in grocery stores are not affected by the PCA recall, however, some boutique brands may be suspect.
Based on this information, and on the current state of the investigation, the FDA recommends that consumers avoid eating products that have been recalled and discard them.
Because identification of products subject to recall is continuing, the FDA urges consumers to postpone eating commercially-prepared or manufactured peanut butter-containing products and institutionally-served peanut butter until further information becomes available about which products may be affected. Efforts to specifically identify those products are ongoing.
Ed. note: MANY PRODUCTS BOTH KOSHER AND NON KOSHER HAVE BEEN RECALLED. THESE PRODUCTS MAY NOT NECESSARILY HAVE PEANUT IN THE NAME TO CONTAIN PEANUTS.
FDA has created a searchable database at /www.accessdata.fda.gov/scripts/peanutbutterrecall/index.cfm. The list is updated frequently.