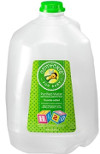 FDA Alerts Consumers to Recall of Certain Comforts FOR BABY Water with Fluoride
December 4, 2017 from the FDA:
The Kroger Company has recalled Comforts FOR BABY Purified Water with Fluoride Added 1 GAL (3.78 L) with sell by dates from 4/26/2018 to 10/10/2018, after receiving complaints about mold in the product. Testing by Kroger has identified the mold as Talaromyces penicillium. The water is sold in clear containers, but the mold may not be visible with the naked eye.
The products were distributed to Kroger stores, including Food 4 Less, Jay C, Jay C Food Plus, Kroger, Kroger Marketplace, Owen's, Payless Super Market, and Ruler stores in Alabama, Arkansas, Georgia, Illinois, Indiana, Kentucky, Mississippi, Missouri, North Carolina, Ohio, South Carolina, Tennessee, Virginia and West Virginia. The Kroger Company has instructed its stores to remove the recalled products.
The recalled products are labeled with the UPC Code 0 41260 37597 2 and the plant code 51-4140. The labels also state DISTRIBUTED BY THE KROGER CO, CINCINNATI, OHIO 45202.
The recalled products have sell by dates from 4/26/2018 – 10/10/2018.
If you have purchased this water return it to the store for a refund.