Fresh Express Announces Precautionary Recall of a Limited Quantity of 11 oz. American Salad due to Possible Allergen Exposure

September 29, 2016 - From the FDA:
Fresh Express Incorporated, >Orlando, Florida is voluntarily conducting a precautionary recall of 480 cases of 11 oz. Fresh Express American Salad with a Product Code of G264A12A and Use-By Date of October 5, due to possible exposure to undeclared allergens (egg, milk, wheat, anchovy). Fresh Express representatives are coordinating with retail stores to ensure removal of the recalled product from store shelves where distributed in primarily southern states.
The recall is necessitated by the possible mistaken inclusion of a small number of Caesar Salad condiment packets with undeclared allergens in a limited quantity of American Salads. Although the condiments are in a separate clear packet and labeled "Caesar," the ingredient list for the condiments is not included on the package label and consumers will not be aware that allergens are present. In order to safeguard the health and wellbeing of consumers, Fresh Express is voluntarily recalling all product that could possibly contain the incorrect condiment packet during this isolated incident. In some individuals the consumption of an undisclosed allergen could be life-threatening. Fresh Express takes all matters of food safety very seriously, including the issue of allergens. Company procedures and programs stringently follow all mandated regulations and focus on preventive measures designed to minimize potential risks. Fresh Express is coordinating closely with the U.S. Food and Drug Administration and is conducting a full investigation into this isolated event.
Consumers in possession of the recalled product should discard it. A refund is available where purchased or by contacting the Fresh Express Consumer Response Center toll-free at (800) 242-5472 during the hours of 8 a.m. to 7 p.m. Eastern time.
Recalled Product Details
Fresh Express American Salad - 11 oz. bag
Product Code of G264A12A and Use-By Date of October 5, located in the upper right hand corner on the front of the bag
UPC Code of 0 71279 241005 located on the reverse side of the bag by the bar code
Recalled Product Distribution
Fresh Express Precautionary Recall, American Salad - 09/29/16
(No other Fresh Express Salads are included in this recall)
| BRAND | PRODUCT NAME | SIZE | UPC | PRODUCTION CODE | BEST IF USED BY DATE | POSSIBLE DISTRIBUTION STATES |
| --- | --- | --- | --- | --- | --- | --- |
| Fresh Express | American Salad | 11 oz. | 0 71279 241005 | G264A127A | 05-Oct | AL, FL, GA, NC, SC, TN |
Kosher Advisory Honey
September 30, 2016 from the OU:
Please be aware that "forest honey", "honeydew honey", and "beechwood honey" generally refer to honey produced by bees that have consumed the nectar from aphids. They should be avoided. It has come to our attention that some honey blends contain these varieties, which would be identified on the product's ingredients label. Please check your honey to ensure that these varieties are not listed.
Kashrus Alert Zaini Spider-Man, Disney Pizar Cars, Disney Frozen, Micky Mouse Milk Chocolate Eggs,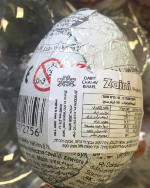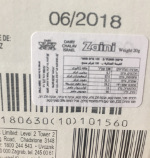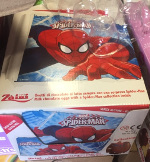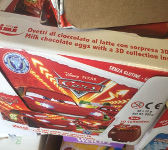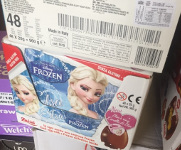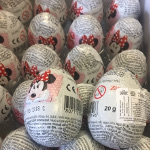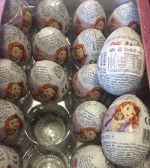 September 29, 2016 - From Badatz Yerushalayim:
The Zaini Spider-Man, Disney Pizar Cars, Disney Frozen, Micky Mouse Milk Chocolate Eggs from Ligi aini S.p.A Viale Europa 2, Senago (MI) Italy shown in the shown in the pictures with the Badatz Eida Hachreidis Jerusalem stamp is distributed in the USA, in the Tri state area.
The product is not Badatz certified, it is a FORGERY.
Kashrus Information on Beaumont Veggie Wash
September 26, 2016- from the COR Detroit and confirmed by the cRc:


VEGGIE WASH FRUIT & VEGETABLE WASH from Beaumont Products, in both the Natural and the Organic types, is cRc certified. The Organic type mistakenly does not bear the cRc symbol, but is nevertheless certified.
Kashrus Alert on LaChoy Bean Sprouts
September 28, 2016- from the OK Kosher certification:

LA CHOY BEAN SPROUTS has OK certification only on the 28 oz. and #10 can (102 oz.) sizes. - The 14 oz. size cans are not acceptable, and therefore do not bear the OK symbol.
Koffee Kup Bakery, Inc. Voluntarily Recalls Bread Products Due to Possible Presence of Plastic Pieces in Product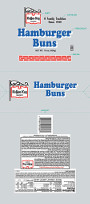 September 17, 2016 - From the FDA:
Koffee Kup Bakery, Inc., Burlington, VT has voluntarily recalled approximately 99,000 packages of its bread products due to the possibility that there may be clear plastic pieces in some products. The product recall is limited to the bread products listed below and only those identified by the "use by" dates 9/30/16, 10/1/16, 10/2/16 or 10/3/16, which are printed on the closure tags of each package. Products bearing other "use by" dates were not affected, nor were any of Koffee Kup's crullers or donuts, which are produced on a different manufacturing line.
Koffee Kup discovered the presence of a foreign object in its bread and roll production through routine screening. The company ceased production immediately and upon further investigation, discovered that a small piece of clear plastic entered the stream of production and broke apart during the production process, thus creating a hard-material choking hazard. The company elected to commence an immediate product recall of all products potentially contaminated by the plastic that entered the production stream.
The recalled products were shipped to U.S. retailers in the states of VT, NH, ME, MA, CT, RI, NY, NJ, PA, MD,VA, and the District of Columbia. None of the products were shipped by Koffee Kup or its distributors to Canada or to other countries, to the company's knowledge.
The following Koffee Kup products may be affected. No Koffee Kup products other than those identified below bearing "use by" dates 9/30/16, 10/1/16, 10/2/16 or 10/3/16 were affected.
| | | |
| --- | --- | --- |
| Seeded Potato Hamburger Buns | Potato Hoagie Rolls | Koffee Kup Sub Rolls |
| Kaiser Rolls | Koffee Kup Wheat Sub Rolls | Koffee Kup Wheat Hamburger |
| Seeded Kaiser Roll Poppy | Koffee Kup Kaiser Rolls(Corn) | 12 Hot Dog Buns |
| Wheat Hoagie Rolls | Koffee Kup Kaiser Rolls(White) | Potato Hot Dog Buns |
| Sourdough Hoagie Rolls | Koffee Kup Kaiser Rolls(Wheat) | 12 Burger Buns |
| Sandwich Rolls | Market Basket Plain Bulkie Rolls | Koffee Kup Hot Dog Rolls |
| Grinder Rolls | Market Basket Wheat Bulkie Rolls | Market Basket Plain Sub Rolls |
| Wheat Kaiser Rolls | Bar-B-Que Sweet Buns | Hot Dog Buns |
| Wheat Grinder Rolls | Seeded Sandwich Buns | Hamburger Buns |
| Koffee Kup Hamburger Buns | Big Y Bulkie Rolls | Seeded Kaiser Rolls Sesame |
| Big Y enriched White Grinders | Big Y enriched Wheat Grinders | Hamb 5.5" Plain 8 PK |
| Hamb 5.5" Seed 8PAK | | |
Distributors, drivers and retailers have been notified of the recall and have been directed to remove all potentially-affected products from stores, but some products may already have been purchased by consumers. Customers who purchased any of the above-listed products should NOT eat the product, but should return it to the store where it was purchased for an exchange or a full refund. When possible, customers are asked to return the product with the bag and closing clip.
No injuries have been reported to date.
Consumers with questions can contact Koffee Kup Bakery, Inc. at 1-800-841-8102.
Kashrus Advisory on Kashi Cereals
September 26, 2016- from the COR Detroit:

KASHI CEREALS: Some varieties have changed status from plain OU (i.e., pareve) to OU-D. Each box should be checked.
Currently, all Kashi cereals that bear OU-D are DE (dairy equipment) status. (This refers only to Kashi cereals; not to other Kashi products.) Products manufactured on dairy equipment may be eaten after meat without a waiting period, but not with meat.
The OU cautions that even where it states that a product is DE, the OU does not supervise the cleaning of the equipment between dairy and non-dairy productions.
Please note that cereals are subject to frequent reformulations. It is therefore recommended that consumers check for dairy in the ingredient listing on every purchase, and also to contact the OU office at 212-613-8241 or kosherq@ou.org every three months to reconfirm the DE status.
Kashrus Advisory on Wish Bone Salad Dressings
September 26, 2016- from the COR Detroit:
WISH-BONE DRESSINGS currently have OU certification on only two varieties - regular Italian, and Robusto Italian. Additional varieties will be receiving certification in the future. Every jar should always be checked for the OU symbol to verify that it is from a Kosher production.
Albany's Terra International Restaurant is Dropping Kosher Supervision
September 27, 2016- from the YeahThatsKosher:
The Terra Pescatarian International Restaurant in Albany, NY is dropping it's kosher supervision on September 289, 2016. "The restaurant was the only Cholov Yisroel kosher restaurant in the Capital District region."
"The owners are seeking the possibility of opening a smaller kosher restaurant that can be sustained by the limited kosher observant population, and travelers who pass by on their way between NYC & Montreal."
Pas Yisroel and Yoshon information on Trader Joe's Half Moon Cookies, Trader Joe's Chocolate Brooklyn Babka And Mango Brooklyn Babka
September 26, 2016- from the COR Detroit:

TRADER JOE'S new HALF MOON COOKIES, and TRADER JOE'S CHOCOLATE BROOKLYN BABKA and MANGO BROOKLYN BABKA, bearing OU Pareve, are Pas Yisroel and Yoshon.