Kashrus information on Little Debbie's Snackfoods
August 17, 2017: From the AJC and OU:
The AKC reported that "Little Debbie Snackfoods (Except those containing Gelatin) are now certified OU-D." The OU has added the following: "The OU stands behind products produced by Little Debbie's Snackfoods which have the OU symbol on the packaging."
South African kosher alert on Chipkins custard sauce
August 18, 2017: From the Beth Din of Johannesburg:
Please be aware that Chipkins custard sauce is erroneously marked Parev, it is Milchik. The company has been notified.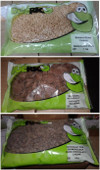 La Forêt, Various Products- Missing Dairy Designation
August 21, 2017, - From the COR:
Délices de la Forêt Quérico Butterscotch (1kg), Chocolate Macarons (1kg), Pure Chocolate Chunks (1kg) are DAIRY and KOSHER certified. Corrective measures have been taken.
Kashrus alert on Schnucks Loose Kaiser Rolls
August 23, 2017 from the OV (Vaad Hoeir of St. Louis):
Loose Kaiser Rolls found in the bread bins at the following Schnucks locations erroneously bear the Graphic1D symbol. These loose Kaiser Rolls are not certified by the Graphic1, the Vaad Hoeir. Corrective measures are being taken.
Schnucks Ladue Crossing
Schnucks at Spoede
Schnucks at Mason
Schnucks Hilltown in Chesterfield
Pre-packaged Kaiser Rolls bearing the OV are certified by the Vaad Hoeir.
Change in certification of Brandeis University Kosher dining
August 24, 2017 from the KVH (Rabbinical Council of New England):
KVH Kosher is pleased to announce that, effective August 23 2017, we are providing Kosher Supervision to Brandeis University Kosher dining, including:
Kosher Dining at Sherman Hall
Louie's Deli
The Bakery
Kosher events where a mashgiach is present and Kosher certificate displayed (always check for the Kosher certificate.)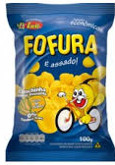 Brazilian Kashrus alert on LUCKY FOFURA PRESUNTO
August 24, 2017 from the BDK (Beit Din Kashrut Sao Palo Bazil):
Devido a mudanças na composição, o produto FOFURA PRESUNTO, da marca LUCKY, não está mais autorizado para o consumo e está sendo retirado da lista amarela, independentemente da data de fabricação e/ou validade.
Translated by Google Translate: Due to changes in composition, the product FOFURA PRESUNTO, brand LUCKY, is no longer authorized for consumption and is being withdrawn from the yellow list, regardless of date of manufacture and / or validity.

King Soopers brand P$$T White Bread & P$$T Wheat Bread - NOT KOSHER starting Wednesday 8/23/17
August 22, 2017 from the Vaad of Denver: The King Soopers brand P$$T White Bread & P$$T Wheat Bread are for a limited time baked NOT kosher & do NOT bear The Scroll K symbol.
These breads were sent to stores today 8/22/17, and are for sale in the stores starting Wednesday 8/23/17. This was due to a mechanical situation.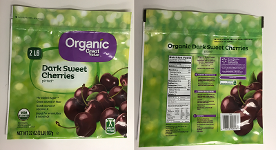 Walmart's Great Value frozen cherries recalled for listeria risk
August 23, 2017 from the FDA and FoodSafetyNews:
SunOpta Inc's subsidiary, Sunrise Growers Inc., has issued a voluntary recall of certain frozen organic dark sweet pitted cherry products due to the potential to be contaminated with Listeria monocytogenes.
This recall includes certain frozen organic dark sweet pitted cherry products distributed from Sunrise Grower's facility in Edwardsville, Kansas on August 10, 2017. The issue was discovered during routine testing by Sunrise Growers. No illnesses related to the consumption of these products have been reported.
Ninety cases of Great Value Organic Dark Sweet Pitted Cherry products are being recalled. The products are packaged in 32 ounce printed plastic zip top bags and marked with a Best By Date of 08/10/19 on the back of the bag. The UPC code is 078742126166 and the lot code is FED722211 or FED722212.
These recalled products were distributed to a customer distribution center in Louisiana and may have been redistributed to stores in Louisiana and Mississippi. The affected retail customer has been notified of this recall and instructed to remove any recalled product from retail store shelves and inventories.
Consumers are urged not to consume these products. Consumers who purchased these products may take them back to the store where they purchased them for a refund or simply discard them. Consumers seeking information may contactus@sunopta.com or call 1-800-854-1988 Monday through Friday, 8:00 a.m. to 5:00 p.m. pacific time.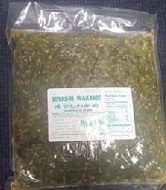 Kashrus alert on Apex Seafood Hiyashi Wakame
August 20, 2017 from the ORC: Please be advised that Hiyashi Wakame from Apex Seafood, San Jose, CA below bears an unauthorized ORC kosher logo. It is not and never was certified kosher by the ORC.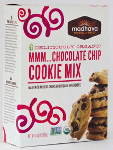 MADHAVA Natural Sweeteners Issues Allergy Alert on Undeclared Milk in its 13.8 oz. MMM... Chocolate Chip Cookie Mix
August 11, 2017 from the FDA:
Madhava Natural Sweeteners of LONGMONT, CO is recalling its 13.8 oz. box of MMM... Chocolate Chip Cookie Mix because it may contain undeclared milk.
The recall applies to all units of their MMM Chocolate Chip Cookie Mix. A 13.8 oz. packages with the item UPC of 0 78314 25105 0. Product has been distributed nationally through retail channels.
The recall was initiated by Madhava Natural Sweeteners after it was discovered that one ingredient in the chocolate chips may include a milk product.
Consumers who have purchased MMM... Chocolate Chip Cookie Mix are urged to return it to the place of purchase for a full refund.
Consumers with questions may contact the company at 1-800-530-2900. Monday – Friday, 8:00 a.m. to 5:00 p.m. MT.
Ed. note: The product bears a Scroll-K Dairy symbol.