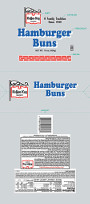 September 17, 2016 - From the FDA:
Koffee Kup Bakery, Inc., Burlington, VT has voluntarily recalled approximately 99,000 packages of its bread products due to the possibility that there may be clear plastic pieces in some products. The product recall is limited to the bread products listed below and only those identified by the "use by" dates 9/30/16, 10/1/16, 10/2/16 or 10/3/16, which are printed on the closure tags of each package. Products bearing other "use by" dates were not affected, nor were any of Koffee Kup's crullers or donuts, which are produced on a different manufacturing line.
Koffee Kup discovered the presence of a foreign object in its bread and roll production through routine screening. The company ceased production immediately and upon further investigation, discovered that a small piece of clear plastic entered the stream of production and broke apart during the production process, thus creating a hard-material choking hazard. The company elected to commence an immediate product recall of all products potentially contaminated by the plastic that entered the production stream.
The recalled products were shipped to U.S. retailers in the states of VT, NH, ME, MA, CT, RI, NY, NJ, PA, MD,VA, and the District of Columbia. None of the products were shipped by Koffee Kup or its distributors to Canada or to other countries, to the company's knowledge.
The following Koffee Kup products may be affected. No Koffee Kup products other than those identified below bearing "use by" dates 9/30/16, 10/1/16, 10/2/16 or 10/3/16 were affected.
| | | |
| --- | --- | --- |
| Seeded Potato Hamburger Buns | Potato Hoagie Rolls | Koffee Kup Sub Rolls |
| Kaiser Rolls | Koffee Kup Wheat Sub Rolls | Koffee Kup Wheat Hamburger |
| Seeded Kaiser Roll Poppy | Koffee Kup Kaiser Rolls(Corn) | 12 Hot Dog Buns |
| Wheat Hoagie Rolls | Koffee Kup Kaiser Rolls(White) | Potato Hot Dog Buns |
| Sourdough Hoagie Rolls | Koffee Kup Kaiser Rolls(Wheat) | 12 Burger Buns |
| Sandwich Rolls | Market Basket Plain Bulkie Rolls | Koffee Kup Hot Dog Rolls |
| Grinder Rolls | Market Basket Wheat Bulkie Rolls | Market Basket Plain Sub Rolls |
| Wheat Kaiser Rolls | Bar-B-Que Sweet Buns | Hot Dog Buns |
| Wheat Grinder Rolls | Seeded Sandwich Buns | Hamburger Buns |
| Koffee Kup Hamburger Buns | Big Y Bulkie Rolls | Seeded Kaiser Rolls Sesame |
| Big Y enriched White Grinders | Big Y enriched Wheat Grinders | Hamb 5.5" Plain 8 PK |
| Hamb 5.5" Seed 8PAK | | |
Distributors, drivers and retailers have been notified of the recall and have been directed to remove all potentially-affected products from stores, but some products may already have been purchased by consumers. Customers who purchased any of the above-listed products should NOT eat the product, but should return it to the store where it was purchased for an exchange or a full refund. When possible, customers are asked to return the product with the bag and closing clip.
No injuries have been reported to date.
Consumers with questions can contact Koffee Kup Bakery, Inc. at 1-800-841-8102.
Kashrus Advisory on Kashi Cereals
September 26, 2016- from the COR Detroit:

KASHI CEREALS: Some varieties have changed status from plain OU (i.e., pareve) to OU-D. Each box should be checked.
Currently, all Kashi cereals that bear OU-D are DE (dairy equipment) status. (This refers only to Kashi cereals; not to other Kashi products.) Products manufactured on dairy equipment may be eaten after meat without a waiting period, but not with meat.
The OU cautions that even where it states that a product is DE, the OU does not supervise the cleaning of the equipment between dairy and non-dairy productions.
Please note that cereals are subject to frequent reformulations. It is therefore recommended that consumers check for dairy in the ingredient listing on every purchase, and also to contact the OU office at 212-613-8241 or kosherq@ou.org every three months to reconfirm the DE status.
Kashrus Advisory on Wish Bone Salad Dressings
September 26, 2016- from the COR Detroit:
WISH-BONE DRESSINGS currently have OU certification on only two varieties - regular Italian, and Robusto Italian. Additional varieties will be receiving certification in the future. Every jar should always be checked for the OU symbol to verify that it is from a Kosher production.
Albany's Terra International Restaurant is Dropping Kosher Supervision
September 27, 2016- from the YeahThatsKosher:
The Terra Pescatarian International Restaurant in Albany, NY is dropping it's kosher supervision on September 289, 2016. "The restaurant was the only Cholov Yisroel kosher restaurant in the Capital District region."
"The owners are seeking the possibility of opening a smaller kosher restaurant that can be sustained by the limited kosher observant population, and travelers who pass by on their way between NYC & Montreal."