K A S H R U T . C O M©
The Premier Kosher Information Source on the Internet
---
HOME | PASSOVER | CONSUMER | COMMERCIAL | TRAVEL | ZEMANIM | LINKS | ARTICLES | RECIPES | HUMOR | E-MAIL LIST

---
THIS SECTION IS FOR NEWS AND INTERESTING STORIES RELATED TO FOOD, NUTRITION AND FOOD PROCESSING. THEY ARE NOT NECESSARILY RELATED TO KOSHER BUT MAY BE OF INTEREST TO THE KOSHER CONSUMER, MANUFACTURER OR MASHGIACH.
The following safety alert from the CPSC on December 16, 2010.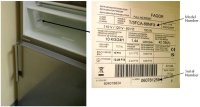 Fagor America Inc. recalls refrigerators due to fire hazard. The refrigerator's control board can overheat, posing a fire hazard to consumers. Fagor America has received 19 reports of incidents, including two reports of fires resulting in damage to the refrigerator and surrounding property. No injuries have been reported. This recall involves Fagor 24-inch wide refrigerators sold in stainless steel and black. "Fagor" is printed on the refrigerator's front door. Model and serial numbers are located inside the refrigerator door, on the left hand side near the food storage drawers.
Models | Serial Numbers Within the Range of
T/3FCA-68NFX | Serial numbers starting with 0609xxxxx through 0727xxxxx
3FCA-68NFX | Serial numbers starting with 0746xxxxx through 1017xxxxx
FCA-86ART | Serial numbers starting with 0839xxxxx through 0915xxxxx
Sold at: Specialty Home Appliance Stores nationwide between July 2006 and May 2010 for between $2,000 and $2,500. Manufactured in: Spain
Consumers should immediately stop using the refrigerator, unplug it and contact the Fagor repair hotline to schedule a free inspection and repair. Consumer Contact: For additional information, contact Fagor America at (888) 354-4411 between 8.30 a.m. and 5.30 p.m. ET Monday through Friday or visit the firm's website at www.fagoramerica.com.
The information posted is from secondary sources. We cannot take responsibility for the accuracy of the information.