K A S H R U T . C O M©
The Premier Kosher Information Source on the Internet
---
HOME | PASSOVER | CONSUMER | COMMERCIAL | TRAVEL | ZEMANIM | LINKS | ARTICLES | RECIPES | HUMOR | E-MAIL LIST

---
THIS SECTION IS FOR NEWS AND INTERESTING STORIES RELATED TO FOOD, NUTRITION AND FOOD PROCESSING. THEY ARE NOT NECESSARILY RELATED TO KOSHER BUT MAY BE OF INTEREST TO THE KOSHER CONSUMER, MANUFACTURER OR MASHGIACH.
The following safety alert from the CPSC and Health Canada on January 20, 2011.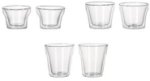 Ikea is recalling RUND clear glass mugs because the inner walls of the double-walled glasses can break during use, posing a laceration hazard to consumers. This recall involves RUND clear glass mugs sold in sizes 4cl, 21cl and 40cl. The mug is handmade of double-walled glass. "Hand Made Quality" is printed on a small transparent sticker on the side of the mug. Article numbers and supplier numbers listed below are located on the package. All sizes were sold in 2-packs. Article and supplier numbers included in the recall are:
Mug Size
Article Number
Supplier Number
4cl
301-551-37
16790
21cl
301-496-79
40cl
501-496-78
Sold exclusively at: IKEA stores nationwide from October 2009 through March 2010 for between $5 and $10. Consumers should immediately stop using the RUND mugs and bring them back to any IKEA store for a full refund. Consumer Contact: For additional information, contact IKEA toll-free at (888) 966-4532 anytime, or visit the firm's website at www.ikea-usa.com
The information posted is from secondary sources. We cannot take responsibility for the accuracy of the information.