K A S H R U T . C O M©
The Premier Kosher Information Source on the Internet
---
HOME | PASSOVER | CONSUMER | COMMERCIAL | TRAVEL | ZEMANIM | LINKS | ARTICLES | RECIPES | HUMOR | E-MAIL LIST

---
THIS SECTION IS FOR NEWS AND INTERESTING STORIES RELATED TO FOOD, NUTRITION AND FOOD PROCESSING. THEY ARE NOT NECESSARILY RELATED TO KOSHER BUT MAY BE OF INTEREST TO THE KOSHER CONSUMER, MANUFACTURER OR MASHGIACH.
The following safety alert from the CPSC on May 24, 2012.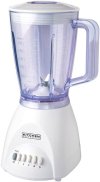 Select Brands Inc., Lenexa, KN is recalling Kitchen Selectives® 6-Speed Blender because while in operation, the plastic pitcher can separate from the blade assembly, leaving the blade assembly in the base and exposing the rotating blades. This poses a laceration hazard to consumers. The recalled products are Kitchen Selectives® 6-Speed Blenders, model BL-15. The model number is located on the bottom of the base. The blender consists of a six-inch tall, white electrical base with five, white speed-selector buttons labeled 1 through 5, one gray button labeled "Pulse/Off" and the logo "Kitchen Selectives®" in black letters on the front; a clear plastic pitcher with a handle with U.S. and metric volume measurement markings; a white plastic lid with a removable clear plastic lid stopper; and a white plastic blade assembly with two angled, stainless steel blades.
They were sold in midwest retail stores Pamida and Sutherlands from June 2009 to April 2012 for about $20. Consumers should immediately stop using the blenders and return them to the retailer where purchased to receive a full refund. For additional information, contact Select Brands Customer Service at (866) 663-4500 between 8 a.m. and 5 p.m. CT Monday through Friday, or visit Select Brands website at www.selectbrands.com.
The information posted is from secondary sources. We cannot take responsibility for the accuracy of the information.