K A S H R U T . C O M©
The Premier Kosher Information Source on the Internet
---
HOME | PASSOVER | CONSUMER | COMMERCIAL | TRAVEL | ZEMANIM | LINKS | ARTICLES | RECIPES | HUMOR | E-MAIL LIST

---
THIS SECTION IS FOR NEWS AND INTERESTING STORIES RELATED TO FOOD, NUTRITION AND FOOD PROCESSING. THEY ARE NOT NECESSARILY RELATED TO KOSHER BUT MAY BE OF INTEREST TO THE KOSHER CONSUMER, MANUFACTURER OR MASHGIACH.
The following safety alert from the CPSC on July 5, 2012.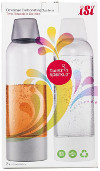 iSi North America Inc, Fairfield N.J is recalling Twist'n Sparkle Home Beverage Carbonation System plastic bottles because the plastic bottles can explode under pressure, expelling plastic parts, resulting in an injury hazard to anyone nearby. The products are plastic bottles used as a part of the iSi Twist'n Sparkle Beverage Carbonation System. The recalled bottles were sold in the Starter Set model number 1005 with one reusable bottle and the Bottle Set model number 1006 with two reusable bottles. The model numbers are printed on the bottom of the box. The recalled plastic bottles are available in one size and two colors of caps/bottoms, white or gray.
These were sold at: Williams-Sonoma, QVC and other national retailers and websites from June 2010 to March 2012 for approximately $50 for the Starter Set and $30 for the Bottle Set.
Consumers should immediately stop using the recalled products and either contact iSi or the place of purchase for instructions on returning the product for a refund or store credit. For products purchased online, contact the online retailers for instructions on how to ship the returns and receive a refund or credit. Note that the US Postal Service does not accept CO2 gas chargers for shipment by mail. For additional information, contact iSi at (800) 645-3595 anytime or visit the firm's website at www.twistnsparkle.com.
The information posted is from secondary sources. We cannot take responsibility for the accuracy of the information.