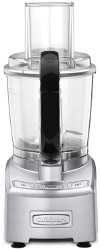 Cuisinart 7-cup food processors have been recalled because the reversible slicing/shredding disc can loosen when in use and the blade can strike and break the food processor's cover. The cover's broken plastic pieces can hit consumers, posing a laceration hazard.
This recall involves nine models of Cuisinart food processors including, MFP-107, MFP-107BC, MFP-107BCWS, MFP-107BK, MFP-107BKWS, MFP-107DCWS, MFP-107MGSLT, MFP-107MR or MFP-107WS. The model number is on the underside of the food processor base. The food processors were sold in white, black, brush chrome, metallic gray, metallic red and silver colors. They have a seven cup plastic work bowl and three push buttons "On," "Pulse" and "Off." Cuisinart is stamped on the front.
Consumers should immediately stop using the recalled food processors and contact Cuisinart to receive a free replacement lid and reversible slicing/shredding disc. Consumer can contact Cuisinart toll-free at (877) 339-2534 from 7 a.m. to 11 p.m. ET Monday through Friday, and from 9 a.m. to 5:30 p.m. ET Saturday or Sunday, or online www.cuisinart.com and click on Recall for more information.
These products were sold at Belk, Best Buy, Dillards, J.C. Penney, Macy's, Sears, Williams-Sonoma and other stores nationwide, and online at Amazon.com and Zappos.com from October 2012 through June 2013 for about $100.