K A S H R U T . C O M©
The Premier Kosher Information Source on the Internet
---
HOME | PASSOVER | CONSUMER | COMMERCIAL | TRAVEL | ZEMANIM | LINKS | ARTICLES | RECIPES | HUMOR | E-MAIL LIST

---
THIS SECTION IS FOR NEWS AND INTERESTING STORIES RELATED TO FOOD, NUTRITION AND FOOD PROCESSING. THEY ARE NOT NECESSARILY RELATED TO KOSHER BUT MAY BE OF INTEREST TO THE KOSHER CONSUMER, MANUFACTURER OR MASHGIACH.
The following news story is from the Wall Street Journal and Olive oil times and incontestable and Olive oil times posted on June 11, 2014.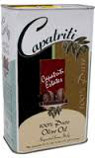 Kangadis Food Inc., a food importer in Islip, Long Island has asked a bankuptcy judge to decide how much they owe customes for allegedly selling processed olive oil as pure.
Kangadis Food had been sued by the North American Olive Oil Association (NAOOA) for selling pomice oil as extra virgin olive oil. The olive oil was sold as the Capatriti brand which was sold for one-third to one-half the price of compable products. This suit was settled without admitting liablity.
Kangadis Food was then sued in a class action suit that is scheduled for trial in September. The company filed for Chapter 11 Friday in U.S. Bankruptcy Court in Central Islip, New York, saying the approximately $1.4 million in legal fees it has racked up over the past year and a half have hurt what is otherwise a profitable business.

The information posted is from secondary sources. We cannot take responsibility for the accuracy of the information.