K A S H R U T . C O M©
The Premier Kosher Information Source on the Internet
---
HOME | PASSOVER | CONSUMER | COMMERCIAL | TRAVEL | ZEMANIM | LINKS | ARTICLES | RECIPES | HUMOR | E-MAIL LIST

---
THIS SECTION IS FOR NEWS AND INTERESTING STORIES RELATED TO FOOD, NUTRITION AND FOOD PROCESSING. THEY ARE NOT NECESSARILY RELATED TO KOSHER BUT MAY BE OF INTEREST TO THE KOSHER CONSUMER, MANUFACTURER OR MASHGIACH.
The following news story is from the nutraingredients.com on July 8, 2014.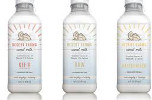 Desert Farms, a company that produces Camel Milk is trying to market camel's milk products as a superfood since it is lower in fat that cow's milk and is high in insulin.
Camel's milk costs $16 for a pint of pasteurized whole camel milk. The milk comes from Amish and small family farms. There are 18,000 cows for every camel in the United States.
The information posted is from secondary sources. We cannot take responsibility for the accuracy of the information.