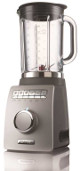 Kenwood is reclling blenders because the lower blade can break during use, posing a laceration hazard.
The recalled blender is the Kenwood Blend-X PRO, BLM800. The glass jar has a glass handle and a black plastic lid and sits on a grey power unit with a motor and user control panel. On the front lower portion of the base is the Kenwood logo on a silver plate. On the bottom of the blender's base, the rating label of recalled units has Type BLM80 and a date code ranging from 14X01 to 15X22 ("X" being any letter) stamped on the label.
Sold at Bloomingdales, Classic Cook, Frontgate, Good 4u Products, Kitchen Appliances, Kitchen Couture, Kitchen Window, Kitchens With Jazz, Las Cosas Cooking, Le Petite, M & K, Main Street Kitchens, Rolling Pin-Neeve, Ralph's Thyme In The Kitchen, The Cooking Depot, The Cupboard, The Kitchen Clique and online at Bllomingdales.com and frontgate.com from August 2014 through July 2015 for approximately $400.
Consumers should immediately stop using the blender and contact Kenwood to arrange for a free replacement blade assembly kit to be mailed to their homes.
Consumer Contact: Kenwood toll-free at 866-367-4561 anytime or online at www.kenwoodworld.com, click on United States and then "Recall Information" for more information.