K A S H R U T . C O M©
The Premier Kosher Information Source on the Internet
---
HOME | PASSOVER | CONSUMER | COMMERCIAL | TRAVEL | ZEMANIM | LINKS | ARTICLES | RECIPES | HUMOR | E-MAIL LIST

---
THIS SECTION IS FOR NEWS AND INTERESTING STORIES RELATED TO FOOD, NUTRITION AND FOOD PROCESSING. THEY ARE NOT NECESSARILY RELATED TO KOSHER BUT MAY BE OF INTEREST TO THE KOSHER CONSUMER, MANUFACTURER OR MASHGIACH.
Guilty verdict in 5-hour counterfeiting case seen as potent deterrent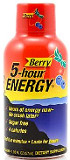 December 2, 2016: From Beverage Daily and FDA:
"A federal jury in San Jose, CA convicted Joseph Shayota and Adriana Shayota late yesterday of conspiracy to traffic in counterfeit goods and conspiracy to commit criminal copyright infringement and to introduce misbranded food into interstate commerce. The defefendants sold more than 4 million counterfeit 5-Hour ENERGY Drink manufactured in unsanitary conditions with with basically perfectly duplicated labels. But no way of knowing what was inside the bottles.
"The duty is on the merchants to sell authentic merchandise. If they bought from a reliable source and they ended up with counterfeit merchandise they are going to be made whole from that source. But if they bought it from just some guy, then they chose to run that risk."
The information posted is from secondary sources. We cannot take responsibility for the accuracy of the information.