K A S H R U T . C O M©
The Premier Kosher Information Source on the Internet
---
HOME | PASSOVER | CONSUMER | COMMERCIAL | TRAVEL | ZEMANIM | LINKS | ARTICLES | RECIPES | HUMOR | E-MAIL LIST

---
THIS SECTION IS FOR NEWS AND INTERESTING STORIES RELATED TO FOOD, NUTRITION AND FOOD PROCESSING. THEY ARE NOT NECESSARILY RELATED TO KOSHER BUT MAY BE OF INTEREST TO THE KOSHER CONSUMER, MANUFACTURER OR MASHGIACH.
5-Hour Energy Counterfeiter gets 7 Years in Federal Prison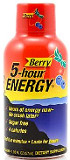 April 23, 2017- from the NutraIngredients:
A defendant in the 5-Hour Energy counterfeit Case, Walid Jamil, has been sentenced to 7 years in prison and an additional 3 years of supervised release. "This punishment goes on top of a $10 million civil judgment against him, as well as $555,801.32 in criminal restitution to Living Essentials, the makers of 5-Hour Energy."
The information posted is from secondary sources. We cannot take responsibility for the accuracy of the information.