K A S H R U T . C O M©
The Premier Kosher Information Source on the Internet
---
HOME | PASSOVER | CONSUMER | COMMERCIAL | TRAVEL | ZEMANIM | LINKS | ARTICLES | RECIPES | HUMOR | E-MAIL LIST

---
THIS SECTION IS FOR NEWS AND INTERESTING STORIES RELATED TO FOOD, NUTRITION AND FOOD PROCESSING. THEY ARE NOT NECESSARILY RELATED TO KOSHER BUT MAY BE OF INTEREST TO THE KOSHER CONSUMER, MANUFACTURER OR MASHGIACH.
British kashrus information on Warburtons Danish White Loaf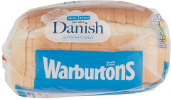 December 18, 2018 from London Beth Din Twitter FeedC:
The Warburtons Danish White Loaf is now KLBD kosher Certified Parev, no logo. Pas Palter. For the full list of kosher certified Warburtons products see isitkosher.uk/#warburtons. This is only for product purchased in the UK.
The information posted is from secondary sources. We cannot take responsibility for the accuracy of the information.