K A S H R U T . C O M©
The Premier Kosher Information Source on the Internet
---
HOME | PASSOVER | CONSUMER | COMMERCIAL | TRAVEL | ZEMANIM | LINKS | ARTICLES | RECIPES | HUMOR | E-MAIL LIST

---
THIS SECTION IS FOR NEWS AND INTERESTING STORIES RELATED TO FOOD, NUTRITION AND FOOD PROCESSING. THEY ARE NOT NECESSARILY RELATED TO KOSHER BUT MAY BE OF INTEREST TO THE KOSHER CONSUMER, MANUFACTURER OR MASHGIACH.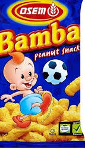 A Beloved Israeli Snack Prepares to Take Bigger Bite Out of American Market
February 7, 2019 from CTech
"Bamba manufacturer Osem Group is negotiating with Swiss multinational Nestlé S.A. for a U.S. distribution agreement that will see Bamba become a staple in the diet of U.S. kids. Osem itself is a wholly-owned subsidiary of Nestlé. If the agreement is finalized, Bamba will be added to Nestle's baby food division, which distributes such popular brands as Gerber and NAN."
"With the new distribution agreement, Osem can hope to see a rise in the popularity of the snack. Osem's frozen soy-based meat substitutes brand Tivall enjoyed such a spike in demand in Europe since it was added to Nestlé's prepared food selection. "
"Osem is preparing to launch its new Bamba manufacturing plant, built in southern Israeli town Kiryat Gat with a NIS 200 million (approximately $55.2 million) investment. The new plant is set to have more than double the manufacturing capacity of Osem's existing Bamba plant in central Israel."
The information posted is from secondary sources. We cannot take responsibility for the accuracy of the information.