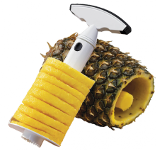 Far East Brokers Recalls Pineapple Corer & Slicers Due to Laceration Hazard
May 23, 2019 - from CPSC :
Fabulous Home Pineapple Corer & Slicers have been recalled because the metal blade of the slicer can detach, posing a laceration hazard to the consumer.
This recall involves Pineapple Corer & Slicers sold under Fabulous Home brand. The corer & slicer is white with a black top and made mostly from plastic with a metal blade. It works much like a cork screw to core and slice pineapples.
Sold At: Coborn's and Bashas grocery stores in Minnesota, South Dakota, Arizona and New Mexico from February 2019 through April 2019 for about $4.
Consumer Contact: Far East Brokers & Consultants at 800-619-0487 from 8 a.m. to 5 p.m. ET or email at customerservice@fareastbrokers.com or online at https://fareastbrokers.com and click on "Product Recalls" and then "Pineapple Corer & Slicer" for more information.