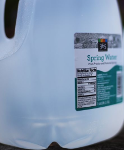 Tainted bottled water is being sold at supermarkets throughout New England
July 29, 2019 - from the Boston Globe:
"Nearly a month after spring water from a Haverhill company was found tainted with toxic chemicals, its gallon-sized jugs are still stocked on supermarket shelves across New England, despite a health advisory from state health officials that pregnant women, nursing mothers, and infants should not consume the water."
"Last month, as officials in New Hampshire were completing new standards to reduce exposure to per- and polyfluoroalkyl chemicals, part of a national push to tighten their regulation, they decided to conduct a random sampling of bottled water sold at supermarkets in the state, something rarely done."
"The results showed that water from Spring Hill Farm Dairy in Haverhill had sharply elevated levels of the human-made chemicals, known as PFAS, which have been linked to kidney cancer, low-infant birth weight, and a range of diseases."
July 2, 2019 Bottled Water Consumption Advisory and list of recalled water from the Massachusetts Department of Public Health is here