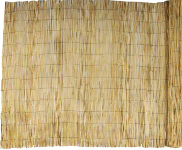 September 16, 2019 from the cRc Twitter feed:
"In short, cRc no longer recommends fencing material (e.g. from Home Depot) for #schach as we have found a reasonable chance this may result in not kosher schach. We suggest traditional schach material, e.g. bamboo poles, tree branches, mats specifically certified for sukkah-use."
"Schach fencing mats bought previously when approved may be used, but make sure shade exceeds sunlight - i.e. add more schach (e.g. more layers of these mats, bamboo poles, or tree branches) to ensure halachic requirement is met of 'more shade than sunlight.'"