K A S H R U T . C O M©
The Premier Kosher Information Source on the Internet
---
HOME | PASSOVER | CONSUMER | COMMERCIAL | TRAVEL | ZEMANIM | LINKS | ARTICLES | RECIPES | HUMOR | E-MAIL LIST

---
THIS SECTION IS FOR NEWS AND INTERESTING STORIES RELATED TO FOOD, NUTRITION AND FOOD PROCESSING. THEY ARE NOT NECESSARILY RELATED TO KOSHER BUT MAY BE OF INTEREST TO THE KOSHER CONSUMER, MANUFACTURER OR MASHGIACH.
Newer news
Rituals vs. Reactionaries
January 9, 2018: from the Drovers
This article talks about the fight going on in Europe between people who are trying to end meat eating and people who practice religious slaughter. Animal rights activists in Europe are using religious slaughter and biases against the people who practice it as a weopon in their goal to eliminate the use of animals as food.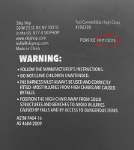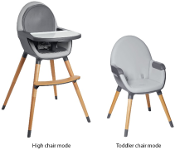 Skip Hop Recalls Convertible High Chairs Due to Fall Hazard
January 9, 2018 from the CPSC in conjunction with Healthy Canadians:
Tuo Convertible High Chairs have been recalled because the front legs on the highchair can detach from the seat, posing fall and injury hazards to children.
This recall involves the charcoal colored Tuo convertible high chair, which can be converted into a toddler chair. The style numbers are 304200 and 304200CN with a date code found on the back of the chair as follows: HH102016, HH11/2016, HH3/2017 and HH4/2017. The highchairs have a reversible seat pad, removable tray, 5-point harness, beechwood footrest and legs
Sold At: Babies "R" Us, Buy Buy Baby, Target, Kohls, Dillards and other children specialty stores nationwide and online at Amazon.com and Skiphop.com from December 2016 through September 2017 for about $160.
Consumers should immediately stop using the recalled high chairs and contact Skip Hop for a free replacement.
Consumer Contact: Skip Hop toll-free at 888-282-4674 from 9 a.m. to 5 p.m. ET Monday through Friday, or online at www.skiphop.com and click on "Recalls" for more information.
Paris - Fire At French Kosher Market Targeted By Anti-Jewish Vandals
January 9, 2018: from the Vosizneias
A fire broke out Tuesday at at the Promo & Stock Kosher market in Creteil, South of Paris. This market was vandalized with anti-Semitic graffiti last week. Arson was suspected becasue the store's protective shutters had been forced open.
Great Britan: Halal & Kosher meat could be labelled with method of slaughter after Brexit amid animal cruelty concerns
December 31, 2017 from the Telegraph-UK and Halal focus:
"Halal and Kosher meat could be labelled by method of slaughter after Brexit amid concerns that animals are suffering needlessly before being killed."
"Tory MPs and leading vets have for years raised concerns that the failure to stun animals before killing them under some methods of slaughter is cruel."
"George Eustice, the farming minister, has now given a clear indication that the Government will consider introducing labelling after the UK leaves the European Union."
"Shimon Cohen, campaign director at Schechita UK, said: "The Jewish community fully supports the notion that consumers have every right to know what they are eating."
"However, we also feel it is extremely important to distinguish between honest, even-handed labelling and what has been proposed thus far (stunned or non-stunned) which could so easily amount to an inadvertent deception of the consumer and an affront to faith communities."
" 'If we want to ensure true consumer information, they should be told the method of slaughter – captive bolt shooting, gassing, electrocution by tongs or water, drowning or any of the other approved methods."
" 'Labelling just one process inevitably sends a message that one method is somehow inferior to other methods; labelling stunned/ non-stunned will not suffice as the shechita process incorporates an integral stun; stunning, dispatching and exsanguinating the animal in one rapid action, conforming to all relevant EU definitions of stunning and to all norms of animal welfare.'"
Amsterdam Journal: New Slaughtering Rules Pit Dutch Religious Freedoms Against Animal Rights
December 31, 2017 from the UK-News.net:
"The Dutch Party for the Animals, which currently has five seats in Parliament, first pushed for changes in 2010. The measure was passed by the lower house and then rejected by the senate, which nevertheless issued a resolution requiring the religious groups involved to develop slaughter practices with more consciousness toward animal welfare."
"ven though a compromise solution was developed, the Dutch animal rights party is again planning to introduce legislation early this year in an attempt to ban religious slaughter."
"There is only one slaughterhouse in the Netherlands where meat is slaughtered for kosher consumption, and that is done only one day a week."
"The new rules dictate that if an animal is not insensitive to pain within 40 seconds of slaughter, based on measures called "induced eyelid reflex" and "cornea reflex," it must be shot."
"The new rules also state that the number of animals killed for kosher and halal meat must be limited to the amount 'necessary to meet the actual need of the religious communities present in the Netherlands.'"
The only kosher butcher "Slagerij Marcus, which relies on exports for 40 percent of its income, may find it difficult to stay in business."
"But not everyone is satisfied. The Party for the Animals, which first introduced the proposal in the Dutch Parliament seven years ago, said the accord did not go far enough."
Israeli Company Spills 26,000 Gallons of Wine
December 22, 2017 from the Matzav.com:
" At an impressive ceremony, the Barkan Winery at Chulda Kibbutz in central Israel spilt and disposed of 26,000 gallons of wine separated as terumah from the year's production line."
"After the recitation of a brocha, a faucet was opened, and to the accompaniment of an orchestra, 26,000 gallons were poured from the winery's huge barrels containing 26 million gallons of wine."

Vilo Home Recalls Marseille Dining Benches Due to Fall Hazard
December 22, 2017 from the CPSC:
The recall involves Marseille dining benches with four legs. The benches were sold in black and brown with beige linen seat cushions. The benches were made of rubber wood. The bench measures about 52 inches by 18 inches wide. The model number is VH1103 and can be found on the product label on the bottom of the bench.  
Consumers should immediately stop using the recalled benches and contact Vilo Home for a full refund.
Sold At: Amazon.com, Wayfair.com, Hayneedle.com and various home furnishing stores nationwide from June 2017 through September 2017 for about $150.
Consumer Contact: Vilo Home toll-free at 833-321-2715 from 9 a.m. to 4 p.m. PT Monday through Friday or email at service@vilohome.net.
10 family members sick with Salmonella in Israel: Probably raw egg mousse
December 22, 2017 from the Barfblog and Yeshiva World:
"Ten family members, adults and children, visited the emergency room of Mayanei HaYeshua Hospital in Bnei Brak on Monday, 7 Teves, presenting with severe intestinal illness. Three of them were hospitalized in the pediatric ward. The illness began after eating homemade mousse prepared from raw eggs."
"The microbiological laboratory at the hospital identified the suspicious growth as salmonella."
Sugar taxes: The global picture in 2017
December 20, 2017 from FoodNavigator:
Many countries around the world are taxing sugar-sweetened beverages as a way to reduce the obesity problem by reducing consumption. The article lists the different approaches around the world. From a kosher point of view, when companies add grape juice to replace sugar, products that were kosher, become non-kosher.
The Use of Visual Examination for Determining the Presence of Gluten-Containing Grains in Gluten Free Oats and Other Grains, Seeds, Beans, Pulses, and Legumes
December 19, 2017 from IFT and JAOAC
:
"The researchers concluded that the use of visual examination—either with the trained eye or properly calibrated optical sorting equipment—resolves many of the problems encountered with antibody-based testing methods, including sampling limitations and the uneven distribution of gluten in ground flours. In addition, they found that the two major processors of gluten-free oats were able to meet the new threshold using different processing methods."
Older news
The information posted is from secondary sources. We cannot take responsibility for the accuracy of the information.