The following health alert is from Barfblog.com on December 16 2013.
Barfblog.com reported that there has been an ongoing Hepatitis A outbreak in Europr that has been linked to frozen fruits. Barfblog reports that the best guesses at this time are that the fruit was from Eastern Europe possibly Poland and were crops that were irrigated with sewage.
The following new story about kosher from Forbes on December 2, 2013.
Laura Faw has written an interesting article "Is Kosher The Next Big Food Trend?" describing food trends in the United States and offers suggestions on how to make this happen and to educate consumers on how kosher products can be useful to them.
The following safety alert from the CPSC, on November 21, 2013.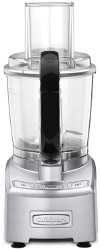 Cuisinart 7-cup food processors have been recalled because the reversible slicing/shredding disc can loosen when in use and the blade can strike and break the food processor's cover. The cover's broken plastic pieces can hit consumers, posing a laceration hazard.
This recall involves nine models of Cuisinart food processors including, MFP-107, MFP-107BC, MFP-107BCWS, MFP-107BK, MFP-107BKWS, MFP-107DCWS, MFP-107MGSLT, MFP-107MR or MFP-107WS. The model number is on the underside of the food processor base. The food processors were sold in white, black, brush chrome, metallic gray, metallic red and silver colors. They have a seven cup plastic work bowl and three push buttons "On," "Pulse" and "Off." Cuisinart is stamped on the front.
Consumers should immediately stop using the recalled food processors and contact Cuisinart to receive a free replacement lid and reversible slicing/shredding disc. Consumer can contact Cuisinart toll-free at (877) 339-2534 from 7 a.m. to 11 p.m. ET Monday through Friday, and from 9 a.m. to 5:30 p.m. ET Saturday or Sunday, or online www.cuisinart.com and click on Recall for more information.
These products were sold at Belk, Best Buy, Dillards, J.C. Penney, Macy's, Sears, Williams-Sonoma and other stores nationwide, and online at Amazon.com and Zappos.com from October 2012 through June 2013 for about $100.
FDA guidance on acrylamide in food at Processing Magazine and FDA posted on November 21, 2013.
The FDA has issued a draft guidance on acrylamide in food. "Acrylamide forms from sugars and an amino acid (asparagine) during certain types of high-temperature cooking, such as frying, roasting, and baking." Acrylamide at higher levels than found in food have been found to cause cancer in laboratory animals.
"Food choice and acrylamide exposure
Acrylamide has been found primarily in food made from plants, such as potatoes, grain products, and coffee. Acrylamide is not typically associated with meat, dairy, or seafood products.
Acrylamide is typically found in plant-based foods cooked with high heat (e.g., frying, roasting, and baking), not raw plant-based foods or foods cooked by steaming or boiling.
Some foods are larger sources of acrylamide in the diet, including certain potato products (especially French fries and potato chips), coffee, and foods made of grains (such as breakfast cereal, cookies, and toast). These foods are all part of a regular diet. However, if you want to lower acrylamide intake, reducing consumption of these foods is one way to do so, keeping in mind that it's best to limit intake of foods that are high in saturated fats, trans fats, cholesterol, salt (sodium), and added sugars. FDA does not recommend reducing intake of healthful grain products (e.g., whole grain cereals) that are a good source of whole grains and fiber."
Food storage and preparation methods to reduce acrylamide exposure
"Comparing frying, roasting, and baking potatoes, frying causes the highest acrylamide formation. Roasting potato pieces causes less acrylamide formation, followed by baking whole potatoes. Boiling potatoes and microwaving whole potatoes with skin on to make "microwaved baked potatoes" does not produce acrylamide.1
Soaking raw potato slices in water for 15-30 minutes before frying or roasting helps reduce acrylamide formation during cooking. (Soaked potatoes should be drained and blotted dry before cooking to prevent splattering or fires.)
Storing potatoes in the refrigerator can result in increased acrylamide during cooking. Therefore, store potatoes outside the refrigerator, preferably in a dark, cool place, such as a closet or a pantry, to prevent sprouting.
Generally, more acrylamide accumulates when cooking is done for longer periods or at higher temperatures. Cooking cut potato products, such as frozen French fries or potato slices, to a golden yellow color rather than a brown color helps reduce acrylamide formation (see Picture A). Brown areas tend to contain more acrylamide.
Toasting bread to a light brown color, rather than a dark brown color, lowers the amount of acrylamide (see Picture B). Very brown areas should be avoided, since they contain the most acrylamide.
Acrylamide forms in coffee when coffee beans are roasted, not when coffee is brewed at home or in a restaurant. So far, scientists have not found good ways to reduce acrylamide formation in coffee."
Information on new FDA Food Code information is at ConsumerFoodSafety.orge and FDA posted on November 21, 2013.
The FDA has issued a new revsion to the Food Code to ensure food is unadulterated and honestly presented when offered to the consumer. "The Food Code represents FDA's best advice for a uniform system of provisions that address the safety and protection of food offered at retail the_code01and in food service, and has been widely adopted by state, local, tribal and territorial regulatory agencies that regulate more than one million restaurants, retail food stores, vending operations and food service operations in schools, hospitals, nursing homes, and child care centers. " The following are major changes:
"Restaurants and food stores must post signs notifying their customers that inspection information is available for review."
"Nontyphoidal Salmonella is added to the list of illnesses that food workers are required to report to their management and that prompts management to exclude or restrict employees from working with food."
"New requirements that better address emerging trends in food establishments such as the use of reduced oxygen packaging methods and the reuse and refilling of take-home food containers."
"Revisions to the minimum cooking temperatures associated with procedures such as non-continuous cooking and circumstances under which bare-hand contact with ready-to-eat foods is permitted."
"Stronger requirements for cleaning and sanitizing equipment used in preparing raw foods that are major food allergens."
The following safety alert from the CPSC, on November 19, 2013.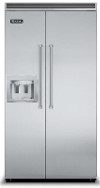 Viking built-in side-by-side refrigerator freezers with in-door dispensers have been recalled because electrical connectors in the refrigerator freezer wiring harness can overheat, posing a fire hazard.
This recall involves Viking 42-inch and 48-inch built-in side-by-side refrigerator freezers with in-door water and ice dispensers. The recalled refrigerator freezers come in a variety of colors, stainless steel or a custom finish. They were manufactured between October 2012 and May 2013 and have the model numbers listed below. The first six numbers in the serial number are the manufacture date of the unit in MM/DD/YY format. Both sizes of refrigerator freezers have a serial number/date code range from 101712 through 052913. The model and serial numbers are located inside the refrigerators on a label on the ceiling behind the light housing.
| | | |
| --- | --- | --- |
| Size | Model Numbers begin with | Color/Finish |
| 42-inch | FDSB5421D | Custom |
| | VCSB5421D | Various colors |
| 48-inch | FDSB5481D | Custom |
| | VCSB5481D | Various colors |
Consumers should immediately turn off and unplug the recalled refrigerator freezers and contact Viking to schedule a free, in-home repair. Theser refrigerators were Sold at Appliance and specialty stores nationwide from November 2012 through May 2013 for between $5,400 and $6,400. The refrigerators were manufacturered by Viking Range LLC, Greenwood, MS.
Consumer can contact Viking toll-free at (877) 266-1086 from 8 a.m. to 5 p.m. ET Monday through Friday, or online at www.vikingrange.com.
The following news is from the prnewswire and truesourcehoney.com on November 14, 2013.
Truesourcehoney.com is a website where consumers can check to see if the honey that they purchased is ethically and transparently sourced. This is a way for consumers to check that the honey they buy is not adulterated. Truesourcehoney was founded by companies s to call attention to the problem of illegally sourced honey.
The following news is from the FDA on November 7, 2013.
"The U.S. Food and Drug Administration announced its preliminary determination that partially hydrogenated oils (PHOs), the primary dietary source of artificial trans fat in processed foods, are not "generally recognized as safe" for use in food. The FDA's preliminary determination is based on available scientific evidence and the findings of expert scientific panels." "The agency has opened a 60-day comment period on this preliminary determination to collect additional data and to gain input on the time potentially needed for food manufacturers to reformulate products that currently contain artificial trans fat should this determination be finalized."
"Consumption of trans fat raises low-density lipoprotein (LDL), or "bad" cholesterol, increasing the risk of coronary heart disease. The independent Institute of Medicine (IOM) has concluded that trans fat provides no known health benefit and that there is no safe level of consumption of artificial trans fat. Additionally, the IOM recommends that consumption of trans fat should be as low as possible while consuming a nutritionally adequate diet.
"In recent years, many food manufacturers and retailers have voluntarily decreased trans fat levels in many foods and products they sell. Trans fat can be found in some processed foods, such as certain desserts, microwave popcorn products, frozen pizzas, margarines and coffee creamers. Numerous retailers and manufacturers have already demonstrated that many of these products can be made without trans fat."
"Following a review of the submitted comments, if the FDA finalizes its preliminary determination, PHOs would be considered "food additives" and could not be used in food unless authorized by regulation. If such a determination were made, the agency would provide adequate time for producers to reformulate products in order to minimize market disruption. The FDA's preliminary determination is only with regard to PHOs and does not affect trans fat that naturally occurs in small amounts in certain meat and dairy products."
The following safety alert from the CPSC, on October 31, 2013.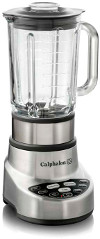 Calphalon Corporation, of Atlanta, GA is recalling Blenders because a piece of the blender's mixing blade unit can break off during use, posing an injury hazard.
This recall involves Calphalon XL 9 speed blenders, model 1832449, also identified as model ME600BL. The model number is located on the underside of the blender's base. The blender consists of a 5-inch tall, brushed-aluminum base with cord storage, the Calphalon logo in black letters at the front, and nine black/white speed selectors with labeling, plus the power button. It also has a clear 56-ounce glass pitcher with a handle and U.S. and metric volume measurement markings; a black plastic lid with a removable clear plastic lid stopper/measuring cup; and a metal blade assembly with six-sided, stainless steel blades.
Consumers should immediately stop using the recalled blender and contact Calphalon for a free repair kit. Consumer can contact Calphalon at (800)-809-7267, from 8 a.m. to 5 p.m. ET Monday through Friday or online at www.Calphalon.com and click on "XL 9 Speed Blender Recall Information" for more information.
This product was sold at Bed Bath & Beyond, Kohl's, JCPenney, Macy's and other major retail stores nationwide and online at Calphalon.com, Amazon.com, Cooking.com, and Zappos.com, among others, from September 2012 through September 2013 for about $130.
The following safety alert from the CPSC, on October 31, 2013.

LaRose Industries LLC, of Randolph, N.J. is recalling Snoopy Sno-Cone Machines because a brass rivet can fall out of the sno-cone machine's ice-shaving cylinder and into a sno-cone, posing a risk of injury to the mouth or the teeth. This recall involves Cra-Z-Art Snoopy Sno-Cone Machines with one of three batch numbers BCH003005A28-0812, BCHTRU001A17-0812 or BCHTRU004A16-0712 printed on the back of the white plastic doghouse and on the side of the box. The plastic sno-cone machines are white in the shape of a dog house with a red roof and red shovel. Snoopy is on the dog house and Charlie Brown and Lucy images are on the front along with a snowman. A metal ice-shaving cylinder in the middle of the sno-cone machine dispenses ice shavings out of the front. The words "SNOOPY" and "SNO-CONES" are on the front of the machine and "Cra-Z-Art" is on the back.
Consumers should stop using the recalled sno-cone machines immediately and contact LaRose Industries for a free repair kit, which includes a new ice shaving cylinder. Do not return the recalled sno-cone machines to the store where purchased.
Consumer can contact LaRose Industries toll-free at (855) 345-4693 between 8:30 a.m. and 5:30 p.m. ET Monday through Friday, email recall@laroseindustries.com or online at www.laroseindustries.com which takes consumers to the Cra-Z-Art website and click on the Recall tab more information.
This product was sold at Barnes & Noble, Target and Toys R Us stores nationwide and online at www.amazon.com from September 2012 through July 2013 for about $15.