K A S H R U T . C O M©
The Premier Kosher Information Source on the Internet
---
HOME | PASSOVER | CONSUMER | COMMERCIAL | TRAVEL | ZEMANIM | LINKS | ARTICLES | RECIPES | HUMOR | E-MAIL LIST

---
Passover Kashrut Alerts
Information on Quinoa
The following Passover alert is from the COR on March 3, 2010.
Biased on current information the COR is not recommending quinoa with the COR 541 for pesach even to those that do use quinoa.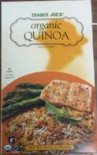 The following revised information is from a reader's observation and posted on March 28, 2010.
Trader Joes Quinoa is useable for Passover when bearing a Half-Moon K or Star-K. Trader Joes Quinoa in West Cost stores is from a different company. This is an OU certified plant that also does chometz. The West Coast Trader Joes Quinoa package is shown here. This package also bears a wheat allergen notice.
Ed. note: A small amount Trader Joes Quinoa in Midwest and East Coast bears an OU. This product does not bear any allergin notice.
The following Passover notice is from the Streit's on March 22, 2010.
Plain Streit's quinoa with the code of PD 34809 is kosher for Passover even without Passover certification (for people who eat kitniot). Other codes are not kosher for Passover.
The information posted is from secondary sources. We cannot take responsibility for the accuracy of the information.
Copyright © kashrut.com. Permission is granted to reprint these alerts if kashrut.com is credited as the source of the information.
כל האומר דבר בשם אומרו, מביא גאלה לעולם אבות ו"ו