K A S H R U T . C O M©
The Premier Kosher Information Source on the Internet
---
HOME | PASSOVER | CONSUMER | COMMERCIAL | TRAVEL | ZEMANIM | LINKS | ARTICLES | RECIPES | HUMOR | E-MAIL LIST

---
Passover Kashrut Alerts
Passover information on Ensure products for Pesach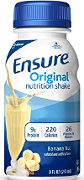 April 17, 2019 from the Scroll-K of Denver:
The Kashrus Komments mistakenly listed all Ensure products as chametz. The following Ensure products do not contain chametz and may be used by those who need them due to a medical condition:
Ensure Complete Nutrition Shake
Ensure Healthy Mom Shake
Ensure High Calcium Shake
Ensure High Protein Shake
Ensure HN
Ensure Homemade Shake
Ensure Plus
Ensure Plus HN
Ensure Plus Next Generation
Ensure Shake
Ensure TwoCal
The information posted is from secondary sources. We cannot take responsibility for the accuracy of the information.
Copyright © kashrut.com. Permission is granted to reprint these alerts if kashrut.com is credited as the source of the information.
כל האומר דבר בשם אומרו, מביא גאלה לעולם אבות ו"ו