K A S H R U T . C O M©
The Premier Kosher Information Source on the Internet
---
HOME | PASSOVER | CONSUMER | COMMERCIAL | TRAVEL | ZEMANIM | LINKS | ARTICLES | RECIPES | HUMOR | E-MAIL LIST

---
Passover Kashrut Alerts
Newer Passover Alerts
The following Passover alert is from the Chicago Rabbinical Council posted on March 13, 2012.
There are basically two types of parchment paper, Quilon and Silicone. All Quilon type paper requires a reliable hashgacha during the year while the silicone type does not. Both require special Pesach certification. All parchment paper under the certification of the Star K is permissible for Pesach even without Passover certification. This is not to be confused with wax paper or freezer paper which do not require any certification during the year or for Pesach.
Information on Quinoa (3/2/12)
The following Passover alert is from the Chicago Rabbinical Council dated February 23, 2012.
Chicago Rabbinical Council Quinoa Policy: In 2007 HaRav Gedalia Dov Schwartz, Shlit''a, the Av Beis Din of the Chicago Rabbinical Council, issued a p'sak that quinoa is not considered kitniyos and therefore may be used on Pesach. Most of the quinoa comes from Peru and Bolivia and has been grown in areas where other (problematic for Pesach) grains were generally not grown. However, as the popularity of quinoa has risen, this is no longer the absolute case. This was confirmed this year by a Star-K mashgiach who visited Bolivia and found that barley does indeed grow in those areas. It was also recently discovered that some farmers cover their quinoa with barley and/or oats to keep the birds from eating the quinoa while it dries. Finally, there is a concern that the sacks used to transfer the quinoa may have been previously used to hold barley or oats.
We have, therefore, determined that the only way to allow quinoa for use on Pesach is to track the quinoa from certain farms that are free from the above concern. The Star-K spearheaded this endeavor and sent a mashgiach to find such a farm. While they were successful in their search, it proved to be challenging from a practical point of view, as the company visited generally sells their products in large quantities. The Star-K has now worked with other companies to pack the usable quinoa into smaller packages, and the following three options have been approved for Pesach quinoa consumption:
Andean Naturals with a lot code beginning SCI-JI sold only in 1,000 lb increments. The contact information is:
Sergio Nunez de Arco; Andean Naturals; Organic Quinoa and Quinoa-based Ingredients
Brought to you by Specialty Commodities, Inc.
Toll Free (888) 547-9777 x 711
www.andeannaturals.com
Andean Naturals with a lot code beginning SCI-JI sold in wholesale 25 lb bags. The contact information is: Tania Petricevic; tpetricevic@layapaorganic.com 194 Orange St. Oakland, CA 94610 Sales Support: (914)220-2974; Customer Service: (954)336-1743 Hours of Operation M-F (PST) 10:00am-4:00pm http://www.layapaorganic.com/Contact_Us.html
Quinoa Corp, Ancient Harvest brand, lot code 3.01.14 k, sold in small retail 12 oz boxes. When ordering directly from them, mention that you want the Passover run. (310) 217-8125 http://www.quinoa.net/
It is important to note that even the quinoa from the above approved sources should be carefully checked before Pesach for any foreign matter before use. This can be done by spreading the quinoa out on a plate and carefully checking there are no other grains or foreign matter mixed in.
The cRc would like to thank Rabbi Zvi Goldberg of the Star-K and Rabbi Reuven Nathanson of the OU for their help on researching this issue.
---
The following Passover alert is from the
Star-K
on March 2, 2012.
Star-K Quinoa Policy: Quinoa is Kosher L'Pesach and is not related to the five types of chometz grains, millet or rice. However, because there is a possibility that quinoa grows in proximity of chometz grains and processed in facilities that compromise its Kosher for Passover status, quinoa should only be accepted with a reliable Kosher for Passover supervision. This year, Star-K sent a mashgiach to Bolivia to visit farms that do not have the above concerns. Based on that visit, Star-K is approving certain brands of quinoa for this Passover. However, the company we visited generally sells in large quantities. We have therefore worked with other companies to pack the usable quinoa into smaller packages. Star-K advises that even the quinoa from these approved sources should be carefully checked before Pesach for any foreign matter(e.g. barley) before use. Place the quinoa on a plate and look through the grains.
Certified Ancient Harvest product will be available in Baltimore at Seven Mile Market.
Other information is the same as in the Chicago Rabbinical Council notice above.
The following British Passover alert is from the London Beth Din Twitter feed on February 28, 2012.

Mackays Jams are only KLBD certified for Pesach when bearing the KOSHER FOR PESACH sticker on the side of the jar
The following Canadian health allergy alert is from the CFIA on February 17, 2012.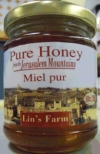 The Canadian Food Inspection Agency (CFIA) and Israel's Judaica Centre, also known as Israel Book and Gift, are warning people with allergies to sulfonamides not to consume the Lin's Farm brand honey products described below because they may contain harmful sulphonamide antibiotic drug residue. The following Lin's Farm brand honey products, imported from Israel and bearing lot code BB 06/2015, are affected by this alert.
| Product | Size | UPC | Lot Code |
| --- | --- | --- | --- |
| Pure Honey | 375 g | 8 90648 00123 7 | BB 06/2015 |
| Pure Honey | 130 g | 8 90648 00123 7 | BB 06/2015 |
| Pure Honey | 250 g | 8 90648 00101 5 | BB 06/2015 |
| Pure Honey | 30 g | 8 90648 00126 8 | BB 06/2015 |
| 3 Healthy delights, (3 jar gift pack) | 3 jars x 30 g | 8 90648 00104 6 | BB 06/2015 |
| Holy Land Tastes, (4 jars gift set) | 4 jars x 115 g | 8 90648 00125 1 | BB 06/2015 |
These products have been distributed in Greater Toronto Area of Ontario. Consumption of these honey products may cause a serious or life-threatening reaction in persons with allergies to sulphonamides. The importer, Israel's Judaica Centre, also known as Israel Book and Gift, Toronto, ON is voluntarily recalling the affected products from the marketplace. The CFIA is monitoring the effectiveness of the recall.
For more information, consumers and industry can call Israel's Judaica Centre, also known as Israel Book and Gift, at 1-800-449-5918 or 1-416-256-2858, Ext 23, or Ext. 29; email: contact@israelsjudaica.com
The following Passover information is from Koshertoday.com with confirmation from the OU on February 13, 2012.
The Dannon Company will not produce its traditional OU yogurts for Passover. The Vanuilla, Plain, Coffee and Lemon flavors are certified by the OU and in previous years had been available as certified kosher for Passover. This year Dannon has chosen not to offer this product.
Ed. note: You can reach Dannon at 1-877-DANNONUS (1-877-326-6668.
The following Mexican Passover information (for Sephardim) is from Kashrut Maguen David on January 24, 2012 (translated by Mildred Seigel).
Los siguientes tipos de arroz de la marca Morelos quedan autorizados como Kosher le Pesaj:
Arroz de grano largo
Arroz integral
Arroz mexicano.
De venta en tiendas de autoservicio y Super Emet.
Translation: The following varieties of Morales brand rice are certified as kosher for Passover:
long grain rice
brown rice
mexican rice
For sale in supermarkets and Super Emet
The following South African Passover alert is from the Beth Din of Johannesburg on January 16, 2012.
The Pick 'n Pay tuna (shredded and chunks in salt water) is PAREV, KOSHER FOR PASSOVER and BISHUL YISRAEL when bearing BETH DIN LOGO (not the OU) and the production date 01/2011.
THE ALERTS THAT ARE BELOW THIS ARE FROM 2011. SOME OF THESE PRODUCTS MIGHT BE AROUND DUE TO A LONG SHELF LIFE OR THE PROBLEMS INVOLVED ARE STILL RELEVENT.
The following egg allergy alert is from the FDA o May 16, 2011.

Cinderella Sweets, of Woodmere, NY is recalling these Kosher for Passover items:
SHABTAI GOURMET DAISY COOKIES 10 oz 8-50097 00106-6
SHABTAI GOURMET LEAF COOKIES 10 oz 8-50097 00105-9
SHABTAI GOURMET COCONUT MACAROONS 13 oz 8-50097-00111-0
SHABTAI GOURMET CHOC COATED COCONUT MACAROONS 14 oz 8-50097-00112-7
A review of product labeling revealed a notation stating "egg free" on the products listed above when in fact the products contains egg. Although the ingredient statement clearly indicates egg in the contents, and eggs are identified in the Allergen statement (in bold type) it still poses a potential health hazard.
This product is in a white 8"x5.75"x 2" window cookie box with the SHABTAI logo within a planet "Saturn" type logo, with a bakery type red & white twine border imprint. Consequently, we are recalling all of the above listed UPC codes from the market. Other products are not involved.
Consumers who have purchased these products are urged to return them to the place of purchase for a full refund. Consumers with questions may contact the company at info@cinderellasweets.com or call 516.374.7976 Monday thru Thursday 9:00am to 5:00pm.
The following Mexican Passover alert from KMD Mexico on April 21, 2011.
Pedimos verificar las bolsas de Guefilte Fish de la "Marca AB" y el Whip que se vendieron en Super Emet que diga Kasher Lepesaj en el empaque, ya que los empaques del año y Pesaj son iguales.
translation: We ask that you verify that the bags of gefilte fish with the brand name "AB" and the Whip that they have sold in Super Emet have the words "kosher lepesach" on the label as the labels for the rest of the year and for Pesach are the same.
Older Passover Alerts
The information posted is from secondary sources. We cannot take responsibility for the accuracy of the information.
Copyright © kashrut.com. Permission is granted to reprint these alerts if kashrut.com is credited as the source of the information.
כל האומר דבר בשם אומרו, מביא גאלה לעולם אבות ו"ו