K A S H R U T . C O M©
The Premier Kosher Information Source on the Internet
---
HOME | PASSOVER | CONSUMER | COMMERCIAL | TRAVEL | ZEMANIM | LINKS | ARTICLES | RECIPES | HUMOR | E-MAIL LIST

---
Commercial Kashrut Alerts
---
The following food recall is from the USDA on November 9, 2011.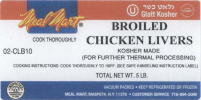 Schreiber Processing Corporation, Maspeth, N.Y. is recalling an undetermined amount of broiled chicken liver products that are linked to a cluster of Salmonellosis illnesses. The illnesses are linked to the consumption of broiled chicken livers which appear to be ready-to-eat, but are in fact partially cooked and need to be fully cooked before consumption. Illnesses are also linked to chopped liver made from this product at retail stores. The outbreak strain of Salmonella Heidelberg was isolated by the New York State Department of Agriculture and Markets from samples of broiled chicken livers from the establishment, and chopped chicken livers produced at retail from these livers. These products would have been repackaged and will not bear the original packaging information. The products subject to recall include: [View Labels (PDF Only)] 10 lb. boxes with two, 5 lb. bags of "Meal Mart Broiled Chicken Liver; Made for Further Thermal Processing" 10 lb. boxes of loose packed "Chicken Liver Broiled" Each bag or box bears the establishment number "P-787" inside the USDA mark of inspection. The product was distributed to retail stores and institutional users in MD, MN, NJ, NY, PA, FL, OH, RI. When available, the retail distribution list(s) will be posted on the FSIS website at: http://www.fsis.usda.gov/PDF/RC_090-2011_Retail_List.pdf.
The information posted is from secondary sources. We cannot take responsibility for the accuracy of the information.
Copywrite © kashrut.com. Permission is granted to reprint these alerts if kashrut.com is credited as the source of the information.
כל האומר דבר בשם אומרו, מביא גאלה לעולם אבות ו"ו