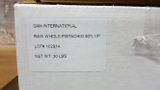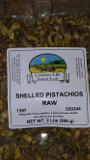 From the FDA on February 19, 2015 - Country Life Natural Foods of Pullman, MI is recalling shelled raw pistachios, sold in 2 lb bags and 30 lb boxes, because it has the potential to be contaminated with Salmonella.
The shelled raw pistachios were distributed in AR, CA, FL, IA, IL, IN, MI, MN, MO, OK, SC, SD, TN, and WI through retail stores, mail order, and direct delivery.
The 2 pound bags will bear the batch number 1357 in the lower left corner of the Country Life Natural Foods Label.
The 30 lb boxes will bear the name "SAM International" lot number 102914, and best by date of April 29, 2016.
This recall was initiated when FDA contract testing laboratory analysis revealed the presence of Salmonella in one of the 19 samples obtained from SAM International. As a precaution, additional products are being recalled as they may be contaminated since they were packed from the master lot that came to our facility. We are working closely with FDA to determine the cause of this situation.
Consumers who have purchased this recalled product should not consume it. They should return it to the point of purchase. Consumers with questions should call Country Life Natural Foods at 800-456-7694, 9:00 am – 5:00 pm EST Monday through Thursday, 9:00 am – 1:00 pm EST Friday.