K A S H R U T . C O M©
The Premier Kosher Information Source on the Internet
---
HOME | PASSOVER | CONSUMER | COMMERCIAL | TRAVEL | ZEMANIM | LINKS | ARTICLES | RECIPES | HUMOR | E-MAIL LIST

---
Commercial Kashrut Alerts
---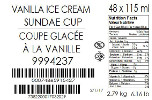 Canadian Food Recall Warning - Wholesome Farms brand Vanilla Sundae Cup recalled due to Listeria monocytogenes
March 31, 2017 - from the CFIA and on April 4, 2017:
Central Smith Creamery is recalling Wholesome Farms brand Vanilla Sundae Cup from the marketplace due to possible Listeria monocytogenes contamination. Consumers should not consume the recalled product described below. Food service institutions, such as hospitals and nursing homes, should not serve or use the recalled product described below.
Brand Name
Common Name
Size
Code(s) on Product
UPC
Wholesome Farms
Vanilla Sundae Cup
115 ml
017032
None
Wholesome Farms
Vanilla Ice Cream Sundae Cup (case)
48 x 115 ml
7382200017032029
2/1/17
00074865915427
Wholesome Farms
Strawberry Sundae Cup
115 ml
03204
None
Wholesome Farms
Strawberry Ice Cream Sundae Cup (case)
48 x 115 ml
7382200018032042
2/1/17
00074865915038
If you think you became sick from consuming a recalled product, call your doctor.
Check to see if you have recalled products in your home. Recalled products should be thrown out or returned to the store where they were purchased.
The information posted is from secondary sources. We cannot take responsibility for the accuracy of the information.
Copywrite © kashrut.com. Permission is granted to reprint these alerts if kashrut.com is credited as the source of the information.
כל האומר דבר בשם אומרו, מביא גאלה לעולם אבות ו"ו