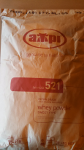 AMPI Recalls Limited Amount of Dry Whey Powder Because of Possible Health Risk
July 25, 2018 from the FDA:
Associated Milk Producers Inc. (AMPI) of New Ulm, Minn., is recalling dry whey powder packaged in 50-pound and 25-kg bags that were produced at the cooperative's Blair, Wis., dry whey plant from May 1-5, 2018; May 24-29, 2018; June 2-5, 2018; and June 7-14, 2018 due to the potential to be contaminated with salmonella. This is a precautionary recall. All products shipped to the marketplace tested negative for salmonella.
The products included in the recall can be identified by the following lot numbers, which can be found printed along the top of the bag. Images of the bags can be found below.
7000.118.121.BL – 7000.118.125.BL
7000.118.144.BL – 7000.118.149.BL
7000.118.153.BL – 7000.118.156.BL
7000.118.158.BL – 7000.118.165.BL
AMPI dry whey powder is not sold directly to consumers, but is used as an ingredient in a number of foods. It is sold directly to manufacturers and also distributed by brokers. A limited amount was sold for animal feed. All products shipped into the marketplace tested negative for salmonella as part of AMPI's routine testing program. However, because additional product tested positive for salmonella under AMPI's routine test and hold procedures, the company is recalling product as a precautionary measure. AMPI has ceased production at its Blair, Wis., dry whey plant, is currently investigating the cause for the positive samples, and will take all necessary remedial actions.
Consumers with questions may contact the AMPI Response Center at 734-773-4220.