The following kashrus alert is from the Kof-K on September 18, 2014.
Schlotterbeck & Foss: Due to changes in the facility, the following products going forward will no longer be Parve. (They may be DE or Dairy as marked)
20-308#D PUMPKIN PIE IC BASE
33-516#D DOUBLERICH EGG NOG
33-521#D REALRICH EGG NOG
33-523#D ALL NATURAL EGG NOG
The following kashrus advisory is from the Orthodox Union on September 9, 2014.
Giavico Products: Pumpkin Juice Puree, Company: Giavico International, Vietnam: Due to production technicalities, the Orthodox Union is no longer certifying Giavico Pumpkin Juice Puree, an industrial ingredient. This does not affect the kosher status of the other Giavico products that bear the OU symbol.
The following health alert is from FDA on August 27, 2014.

Ciranda Organic Carob Powder Light, Product Code 20030. Net Wt. 55.11 lbs / 25 kg. Ingredients: Organic Carob Powder has been recalled because one lot of Organic Carob Powder Light after learning that a customer received a positive test for Salmonella. This product code was Lot 395-13.
The following kashrus alert is from OK Kosher Suprvision on August 13, 2014.
Please be advised that NORTHWEST OLIVE OIL is distributing several products bearing an unauthorized OK kosher symbol on the packaging under the following brand Names:
Crescent Olive Oil, Torino Olive Oil, Angela Olive Oil, Toscana Olive Oil, Bountiful Baskets Apple Cider Vinegar, Bountiful Baskets Coconut Oil
OK KOSHER CERTIFICATION DOES NOT CERTIFY ANY OF THESE PRODUCTS. Corrective action is being taken.
The following kashrus alert is from the Kof-K on July 22, 2014.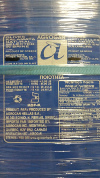 Agrocan Olive Products of Canada bear an unauthorized KOF-K and is not certified by KOF-K.
The following kashrus alert is from the OK Kosher Suprvision on July 23, 2014.

Please be advised that Disposable Styrofoam Products produced by KANGUPOR (Cartagena, Colombia [SA]) bear an unauthorized OK Kosher symbol. THIS ITEM IS NOT CERTIFIED BY OK KOSHER CERTIFICATION. Corrective action has been taken.
The following kashrus alert is from New Square Kosher Certification on Jaly 10, 2014.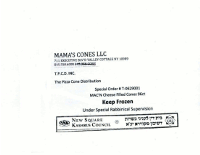 We hereby notify the public that Mac'N Cheese filled cones manufactured by Mama's Cones LLC 711 Executive Blvd. Valley Cottage, NY 10989 bears our kosher emblem without authorization. Label is shown.
The following Canadian health alert is from the CFIA on June 18, 2014.

Sesameco, Quebec is warning the public not to consume and retailers, restaurants and institutions not to sell or use the product described below due to possible Salmonella contamination:
Brand Name
Common Name
Size
Code(s) on Product
UPC
Additional Info
Al Fakher
Tahina
18 kg (40 lb)
Production date:

8-April-2014


Expiration date:

8-4-2016

6 27843 00170 6
Sold by the manufacturer, Sesameco, situated at 4638 boulevard Thimens, St-Laurent, Quebec.
The following kashrus alert is from the Orthodox Union posted on June 13, 2014.
Please note that Grapeskin Powder from 'North of 49 Naturals' mistakenly bears the OU symbol. This product is not certified by the Orthodox Union.
Ed. note from the OU: The OU certifies other products of North of 49.
The following kashrus alert is from OK Kosher Supervision on June 2, 2014.
Please be advised that PARDIS DADAR KHAVARMIYANEH CO. (Shiraz, Fars, IRAN) is circulating a FORGED ~ kosher certificate for their products. OK Kosher Certification does not, and has never certified this company. An investigation into the forgery is ongoing. Alert with forged certificate is here.