K A S H R U T . C O M©
The Premier Kosher Information Source on the Internet
---
HOME | PASSOVER | CONSUMER | COMMERCIAL | TRAVEL | ZEMANIM | LINKS | ARTICLES | RECIPES | HUMOR | E-MAIL LIST

---
COOKIE DOUGH HAMATASHEN with Apricot and Prune Fillings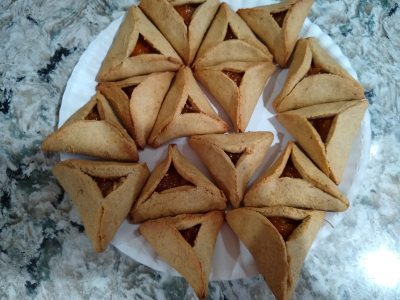 ingredients
3 eggs beaten
1 cup sugar
1/2 cup oil
juice from 1 naval orange or 1/2 cup orange juice
juice from one lemon (1 to 3 tbsp)
5 cups flour
2 tsp baking powder
1 tsp salt
directions
Mix ingredients in the order given.
Chill.
Roll out in small amounts into 1/4" thickness.
Cut into 2" to 3" rounds
Fill with about a 1/2 tsp of filling (see below for recipes).
Shape dough into triangle; pinch openings together
Bake for 20-30 minutes at 3500 or until browned.

The baking time depends on the diameter of the hamentaschen. Hamentaschen from 4" diameter circles baked for 20 minutes.
Apricot Filling
ingredients
2 cups dried apricots
1/4 to 1/2 cup sugar
boiling water
directions
Cook apricots with water until they are soft.
Add part of the sugar and cook over low heat for 10 more minutes or until soft. Taste. Add more sugar if necessary.
Prune Filling
ingredients
1 lb. prunes
2 tsp lomon juice
Grated rind of one lemon
directions
Soak prunes in hot water several hours or overnight.
Cook until soft
Drain, remove pits
Chop
Add lemon juice and rind

---