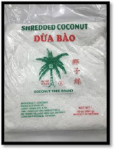 Evershing International Trading Company Recalls Frozen Shredded Coconut Because of Possible Health Risk
January 3, 2018 from the FDA:
Evershing International Trading Company is recalling Coconut Tree Brand Frozen Shredded Coconut, 16 oz., because they have the potential to be contaminated with Salmonella.
This coconut product was distributed in Ohio, Massachusetts, Washington, California, and Oklahoma with redistribution to Illinois, Michigan, New Jersey, New York Pennsylvania, Oregon, Florida, and Texas. This Frozen Shredded Coconut product is packaged in 16 ounces plastic bags. This is a complete recall of ALL Coconut Tree Brand Frozen Shredded Coconut currently on the market. Any customers who have this product should return the product to place of purchase for full refund. Customers may also contact Evershing International Trading Company at (408) 975-9660 during hours of operation, Monday to Saturday from 9:00 am to 5:00 pm.
The issue was discovered by testing performed by the State of Massachusetts.