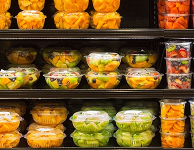 April 12, 2019 from FDA:
Caito Foods, LLC, of Indianapolis, Ind., has recalled products containing pre-cut melons because they are potentially contaminated with Salmonella. Additionally, Caito Foods, LLC has temporarily suspended producing and distributing these products.
FDA worked with CDC and state partners to trace the distribution of pre-cut melon mixes from individual case patients back to Caito Foods, LLC. FDA is also continuing its traceback investigation to identify the specific source of these melons. Salmonella Carrau is a rare type of Salmonella but has been historically seen in imported melons. Reports from Caito Foods LLC indicate that imported melons were used in the suspect pre-cut melon mixes. FDA's traceback investigation is examining shipping records to try to determine a country and if possible, a farm of origin for the melons.
Consumers should not eat the recalled pre-cut melon products. The products were packaged in clear, plastic clamshell containers and distributed in Illinois, Indiana, Iowa, Kansas, Kentucky, Michigan, Minnesota, Missouri, Nebraska, New York, North Carolina, Ohio, Pennsylvania, Tennessee, West Virginia, and Wisconsin. Consumers in these states who have purchased pre-cut melon products and cannot determine whether they were produced by Caito Foods, LLC should throw those products out.
Kroger under the Renaissance Food Group label
Kroger under Boar's Head Private Label
Target under the Garden Highway Label
Trader Joes under the Trader Joes label
Walmart under a Freshness Guaranteed label
Amazon/Whole Foods under the Whole Foods Market Label
Retailers and restaurants should also not serve the recalled pre-cut melon products and should throw the product out.
These products were distributed by:
Caito Foods Distribution with the label "Distributed by Caito Foods"
Gordon Food Service with the label "Distributed by Caito Foods"
SpartanNash Distribution with the label "Open Acres"
Additional information about this recall is here.