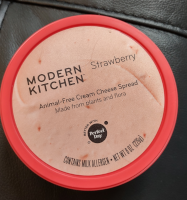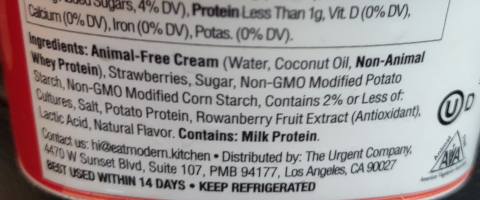 June 17, 2022 from the OU in response to a question from the editor:
The Modern Kitchen cream cheese is labeled OUD, but in fact, its true status, at the present time, is DE (Dairy Equipment).
What does DE mean? A DE product does not contain actual dairy ingredients, but it is manufactured with heat on dairy equipment. DE items may be eaten after meat, but not with meat at the same time.
Many products qualify to be DE but are labeled OUD because OUD is a less confusing symbol for the kosher consumer. Also, to be a true DE product, the equipment must be properly cleaned of residue after dairy production, and that level of cleanliness is sometimes difficult to maintain and guarantee.
Ed. note: This product contains "Non-Animal Whey Protein" produced by fermentation that is certified as pareve. Since this product contains milk protein, it will provoke a reaction in people with a milk protein allergy.