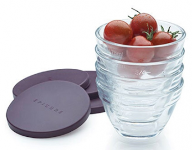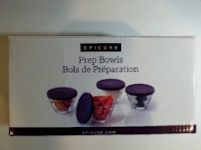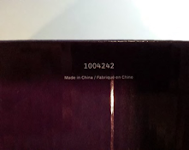 Epicure Recalls Glass Prep Bowls Due to Laceration Hazard
April 7, 2021 - from CPSC :
Epicure Prep Bowls (Set of Four) have been recalled because the tempered glass bowl can break or shatter during use, posing a laceration hazard.
This recall involves Epicure Prep Bowls (Set of Four). Epicure and the product code "1004242" are printed on the outside bottom of the box. The clear glass bowls have plastic purple lids. Epicure is stamped on the bowls and the lids, and each bowl is marked with the following measurements: "50 ml," "125ml," "175ml," "1/4 cup," "1/2 cup," and "3/4 cup."
The firm has received six reports of the prep bowls breaking or shattering in the United States and 35 reports in Canada, including one report of a minor cut on the finger.
Sold At: Epicure independent consultants nationwide between May 2020 and September 2020 for about $23.
Consumer Contact: Epicure toll-free at 855-668-5909 from 8 a.m. to 4 p.m. PT Monday through Friday, email at customerexperience@epicure.com or online at www.epicure.com and click on "Product Updates" at the bottom of the webpage for more information.